My, my — there's a lot going on this weekend, musically. Here's your best bets for blasting your eardrums out and getting your groove on:
Local crooners Mon Cheri throw a release party for their new EP, Melange, tonight at Empyrean (read our review in this week's paper), with DJ Peter Parker and wunderkind Ben Jorgens opening. The party starts at 7 pm, and is all ages.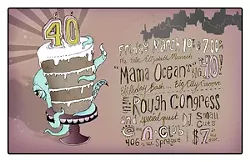 Possibly the best event that's been thrown at the A-Club so far happens tonight
: Mama Ocean's Big 4-0 Birthday Bash, with performances by
Rough Congress
— the danceable, soulful R&B band led by very talented local guitarist, Jamie Maker. Seven bucks, seven o'clock.
Downstairs, catch punk bands Dept. of Martyrs, Whiskey Dick Mountain and The Camaros at Mootsy's. Shows usually start later there — so hit up the A-Club party first.
Tomorrow, the most Divine Jewels throws, Slang, a post-punk/goth dance party at the Lion's Lair. The lady who brings you Pasties & Paddles is a DJ whiz, too — and always throws a great dance party, we hear.
It's a long lineup, but definitely worth hitting up: Dane Ueland, the Terrible Buttons, the Pall, Rex James Bros., Justin Lantrip and Josh Hedlund play Sunset Junction's upstairs room. Show starts at 8 pm, and will cost you $7 at the door.
And if you feel like having a happy-death-metal Sunday, don't miss Super Happy Storytime Land, FAUS, Rise of Caligula, I Declare War and Shrieks of the Impaled at The Blvd. Show starts at 5:30 pm and costs $8. All-ages.