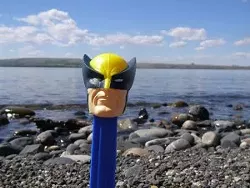 The latest installation in our Bands in Vans series features road musings from local singer-songwriter Mark Ward, who has embarked on a three-week solo tour to California and back:
I awoke early on Monday and attempted to fit as much stuff as I could into my 2001 two-door Toyota Solara....I mean...touring van. After numerous trial and error-pack and unpack attempts, the beast was ready to put the rubber to the row-add.
I began my drive to Portland, OR, which is my first stop on my 20 day excursion. I decided that is not safe to travel alone so I employed a tour manager.....
His name is Wolverine and he'll kick your ass and then feed you yummy candy. He is my protection and he keeps track of the money.
The photo above was taken at a lovely little beach by the Hood River that I stopped at to stretch.
Anyway, I arrived in P-town around 6pm and stopped at my cousin house for some BBQ. My 6yr old cousin Caleb is a BIG fan. My CD was a hit at his kindergarten show and tell!! I guess I found my target market, i'm going to give Raffy a run for his money (if you don't know who Raffy is, then you are either much younger than me or had a sad lonely childhood).
I played at a cool little spot named The Press Club, it's your basic cafe/magazine shop/cocktail lounge/breakfast joint/pub kind of place. My friends Shannon and Will were nice enough to help me set up the show and it turned out to be a great night! There was roughly about 25 people there which made the place look packed! There were friends, family and strangers all in attendence. Everyone was so attentive, kind and appreaceitive. I cound'nt have asked for a better crowd for the first show of the tour. I sold quite a few CDs and even signed a couple autographs! Here are a couple hot shots from the show: —-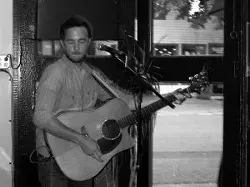 and then....

Tuesday, I had a day off in Portland...So whats a boy to do? GO SHOPPING!! I did a little shopping and a little bit of a happy hour at a lovely Mexican restaurant on 21st st. with my friend Shannon.
After two margaritas, I got lost in a giant park, so I decided to find a cozy little spot by a tree and read for awhile. The weather was amazing in Portland, it was about 85 degrees with a slight breeze and it felt great! I returned to my cousin's house in the evening for some delicious BBQ and smores over a fire pit! Also, my little cousin Caleb showed me an awesome magic trick, it consisted of him putting bark chips in his underwear and then pulling them and saying "IT'S A MAGIC TRICK!"- Best trick ever, I can't wait to try it when I get home.
Today, I am driving to my next stop, which is Ashland, OR. All I know about Ashland is that they hold a pretty awesome Shakespere festival.... So I brought a cloak and skull.
Ward out.