The latest installation in our Bands in Vans series features road musings from local band Belt of Vapor. Go here to read their previous post.)
Day Four
We arrive in Portland safely. We meet my brother at his apartment in NE Portland. We are hungry and thirsty so we walk to a bar to get some food and drinks. I am the only one without sunglasses; I feel left out so we walk to Hollywood Vintage to buy some. They are closed, but our roadie Steve ends up finding seven dollars in the street. All is well in the world.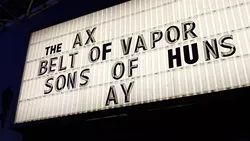 We head down to the venue, Kelly's Olympian, located in downtown Portland and meet up with the Ax. The openers for the show are a local band called Sons of Huns: they are fantastic. We actually knew the drummer because he was in a previous band called Book of Maps with whom we played with often. We go on second, the show goes very well. The crowd seemed to have been made up of mostly ex-Spokanites. We watch the Ax rip a great set and catch up with some old friends. We stay at my brother's house. He invites some friends over. A random guy walks in with a case of wine. We had to kick him out later because he would not leave and he had wine all over his face.
Day Five
We wake up and get breakfast at the Hotcake House. Our roadie Steve wants to order a Mexican omelet which includes peppers, onions and sausage. He asks if he can get the omelet without sausage. The waiter says no. Steve says he will just get a cheese omelet then. The waiter asks, "Would you like to add peppers and onions?" Steve says, "Sure." Our minds are blown.
We are due later that evening in Tacoma. We are playing at a venue called Bob's Java Jive. They say it is "World Famous" — I have my doubts. ---
We arrive in Tacoma and head downtown to meet the Ax at a pizza place. Tacoma has a beautiful downtown, however the interesting thing is that there were no people there. It is desolate. We eat some delicious pizza and head to the venue which is in the shape of a large tea kettle — I kid you not. The venue is located in a very interesting area in an industrial part of Tacoma, a place where you'd think no one would go. Well you are right: no one did go. We almost had to cancel the show because they did not have a microphone cable. The local band headed home and got one. Both the Ax and us rock the place and head to Seattle.
Day Six
We wake up and decide to get breakfast at a place down the street called the Shanty Café. I had the French toast combo and coffee.
We wanted to find a nice place on the beach to spend the day. It took us so long to drive through downtown Seattle that we ended up having to go straight to the venue. We are playing at a place called the Comet Tavern on Pike — or is it Pine? We get dinner and some happy hour drinks across the street with some old high school/middle school friends from Spokane. We tried to load our equipment in but they wouldn't let us because they were shooting a scene for a movie. One of the actors was Jason Biggs from American Pie. Nice guy. We give him a compact disc.
There are four bands on the bill: Sweaty, Chinese, The Ax, and Belt of Vapor. All the bands were great. We load out and head back to our apartment in Magnolia. I think I am coming down with a cold, I need some good sleep.
Day Seven
We wake up and do round two at the Shanty Café, this time I order the full breakfast with a coffee. We eat, chat, pay, and head out. We have a short, beautiful drive to Bellingham. We take the I-5 North. Traffic is ridiculous until we hit the Everett area. The further north we drive the more beautiful the scenery gets. We arrive in Bellingham and decide to stroll around downtown to find a place to eat. We grab some pizza at Rudy's Pizzeria and three dollar pitchers of Pabst at the Up and Up. The Ax come and meet us, we finish our food and drinks and head over to the Cabin Tavern, our venue for the night.
During the day the Cabin Tavern was full of old drunk men, however around nine or ten o'clock there was a shift to a younger crowd. The Ax open the show, playing what I think was one of their best sets to a great crowd. We go on second and play one of our better shows as well. We get to chat and hang out with some old friends and meet some new ones as well. The local band, tearamanapart, ends the show. All in all Bellingham was one of our best shows. It was a fantastic way to end the tour.
After the show we drive to Adam's (the Ax drummer) sister's house near Lake Whatcom. It is going to be our resting place for the night. The house is ridiculously amazing. It was so cool I did not even know how to use the light switch and the toilet had two different buttons for flushing! They had a kegerator full of IPA which I instantly gravitated towards.
We find the hot tub: six dirty men instantly strip to boxers and head into the warm water together. We be living like kings. I also get wind that they have a sauna. You can only be in a hot tub for so long so the six of us head to the sauna to relax and shed some of those calories we drank over the week. We spend what must have been about an hour in 117 degree steam drinking mimosas at 3:30 in the morning while listening to Sunny Day Real Estate's How It Feels to Be Something On. I am very surprised no one passed out in the sauna. Good thing Adam/s sister is a doctor and made us drink water. We all sleep great. Our roadie Steve slept outside in the hammock.

Day Eight
We wake up. To make one human again one must drink mimosas, so that is what the Ax and BoV do. Adam's sister makes breakfast while we hang out and chat and try to clean our mess up a little. No one wanted to leave but I do not think they would have accepted our antics for another night. We hug it out with the Ax. This is where our paths split, they go to Portland, and we go to Spokane.
We decide to take Highway 2 all the way to Spokane. This is one of the most amazing drives I have ever been on. Although it is a bit slower than I-90, it is worth the extra time.
None of us really want to go home. Although I am excited to see my fiancée and her son. Aaron is excited to see his parents. Justin is excited to see his son Uli. But there is something in us that just wants to keep driving through Spokane and on to the next city. Touring has never been about making money, it is about playing music with your best friends, seeing the world, and making new friends.
This tour has been a vacation from much of the minutia one has to deal with on a daily basis. Bills. Appointments. Meetings. Dental care. Flossing. Showering. Television. Shopping. Job hunting. Exercise. Talking about the weather. Work. Getting up early. Lawn care. Oil changes. Fox News. Laundry. Shaving. Combing one's hair. Student loans. Credit cards. Deciding what to do with your life. Going on tour is a great way not to escape life, but to experience real life with your best friends in one of the most beautiful countries in the world.