They're only on their third show of this season, but Lake City Playhouse has already announced what they're doing next season.
The Coeur d'Alene theater has lined up three musicals, a couple of comedies and two American classics for 2011-12. Here they are, along with the months they open. (Local actors, set up your audition plans accordingly.)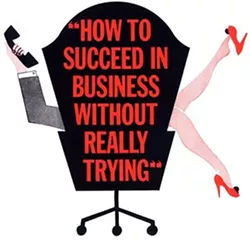 Fiddler on the Roof
(Sept. 2011)
A Streetcar Named Desire (Oct.)
Sorry! Wrong Chimney! (Dec.)
Rent (Jan. 2012)
Epic Proportions (Feb.)
Pete 'n' Keely (March)
Lost in Yonkers (April)
How To Succeed in Business Without Really Trying (May 2012)
LCP is currently showing A Taffeta Christmas. (See our review this Thursday.) The theater's next show, Of Mice and Men, opens Jan. 14.
[ Logo from Theatre of the Highlands in La Grange, Illinois. (The once and future history of How To Succeed: 1952 book; 1961 musical (seven Tonys, Pulitzer), 1967 movie (also starring Robert Morse); 1995 Broadway revival (Matthew Broderick); March 2011 Broadway revival (with Harry Potter, er, Daniel Radcliffe). ]