Several weeks ago while perusing Facebook, I came across an interesting photo posted by one of the many cat-related pages I follow. After doing a bit of research on the good ol' Interwebs, I found out all of the exciting information shared in this week's post. To the right is the image that started it all.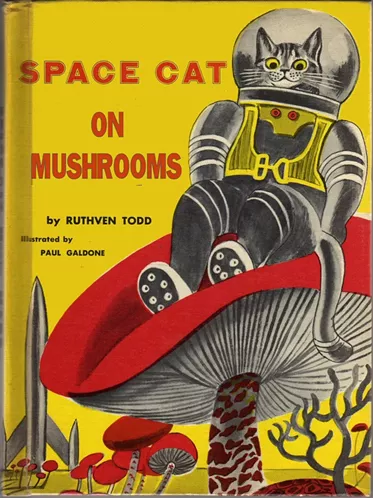 Because the cover, title, and probably the storyline of this book sounded so damn cool – and probably filled with trippy drug references that would totally fly over most kid's heads – I began looking for places where I could get my hands on this glorious book. Little did I know at the time that I was about to stumble upon an entire series of stories on this wide-eyed, intrepid feline explorer.

Turns out, there are at a total of four Space Cat books that were originally published between 1952 and 1958, right at the start of the Space Race between the U.S. and Russia that began in '57 with the Russian's launch of Sputnik.
Having been an avid reader since I learned how, I now totally want these vintage, weird, kitty-themed books for my own collection. Alas, though, I soon found out that I'd have to drop $100 bucks or more for each book, because it seems this now-out-of-print series are pretty hard to find and also are pretty coveted by others. If anyone has these lying around their basement, let me know.
What I also discovered is that there seems to be two versions of the Space Cat on Mushrooms book… but more likely is the title isn't real at all, and the above image was created by someone being funny with Photoshop. The only book that I could really find any information (or actual copies for sale) is actually called Space Cat Meets Mars.Unless, though, the publishers were forced to rename the book after getting complaints for its drug-referencing title? I couldn't find anything that seemed to indicate this, so for now it remains a mystery.
Ruthven Todd, the author of the series, it turns out, was a Scottish poet, artist, and novelist, and edited the works of William Blake, the famed English poet. He wasn't exactly a nobody, but who's ever heard of him before?

Amazon's prices for books in the series ranged from $65 (that's actually the best price I've seen yet) on up to a whopping $198.
Ebay wasn't much different, with prices starting at $89 and going all the way up to $299. Lots of the copies I saw for sale weren't even in good condition – many looked to be old library copies with the cataloging stickers and plastic jacket protectors still on them.

If anyone knows where myself or other interested readers could check these books out, please leave a comment. Or, if you happen to be the lucky owner of a copy we'd love to know. We all are just dying to get our hands on the adventurous tales of Space Cat!
The first Space Cat book (above) was published in 1952. Next in the series is Space Cat Visits Venus (1955). Followed by Space Cat Meets Mars, which came out in 1957.The last book in the series came out in 1958 and sounds like it could have the cutest storyline: Space Cat and the Kittens.