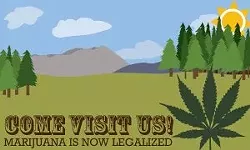 Here in Washington, you'll have to wait to legally grow your own recreational weed or open up a pot shop until the state Liquor Control Board makes the rules. But in Colorado, the other state that legalized recreational pot in November, things are already heating up.
That's because Colorado's measure, Amendment 64, explicitly allows people 21 and older to not only possess an ounce of marijuana, but to grow up to six plants and to give the drug to another adult. (The rules around selling it are still being worked out, but gifting is legal.)
On New Year's Eve, two smoking spots opened in Colorado — a cannabis club, Club 64, in Denver and a marijuana den-slash-coffee shop in a tiny southern Colorado town, according to the Denver Post. Club 64 met for the first time at 4:20 pm on Monday. Fans gushed on the club's Facebook page, including one guy who called the founders "like the first person to walk on the moon and stuff."
The coffee-weed den met a quick demise, though, closing yesterday, just one day after it opened. The landlord who was renting the space apparently decided he wasn't actually into leasing a space for pot smoking, legal or not, the shop's owner, Paul Lovato, told the Denver Post. Lovato said he envisioned a place where people could buy coffee and T-shirts and sample marijuana for free, but that all the publicity he got that first day gave the landlord second thoughts. For now, according to the group's Facebook page, Lovato is hosting the "Inn" at his house and trying to find a new space.
Washington's I-502 allowed for possession of up to one ounce of marijuana starting Dec. 6, but the Liquor Control Board has a year to make the rest of the rules. The Board is currently taking public comment on the first phase: how they should regulate growers.
Email them your thoughts at rules@liq.wa.gov
Or write them at:
Rules Coordinator Liquor Control Board
P.O. Box 43080
Olympia, WA 98504-3080