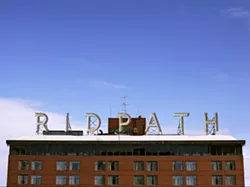 Gregory D. Jeffreys, a Spokane developer associated with the troubled Ridpath Hotel who was recently charged with fraud and other charges, was inadvertently released from Spokane County Jail on Friday night.
The Spokane County Sheriff's Office reports Jeffreys was being held on multiple charges of bank and wire fraud. He was reportedly released at about 8 p.m. Friday. The U.S. Marshals and the FBI were notified when the mistake was discovered.
The Spokesman recently reported the details of 73 counts of fraud and other charges filed against Jeffreys. He was ordered held as an "economic and physical risk" to the community. The paper posted sections of the indictment against Jeffreys here and here.
We broke down the Ridpath debacle about a year ago and followed up with the investigation into Jeffreys in December.
Authorities say Jeffreys turned himself back in this morning.
Here's the news release:
On Friday night, February 1, 2013, 53-year-old Gregory D. Jeffery's was inadvertently released from the Spokane County Jail. Jeffery's was in the Spokane County Jail on a U.S. Marshall hold stemming from multiple charges of Bank and Wire Fraud.

Jeffery's was released sometime between 7:49 and 8:31 p.m. Once the mistake was realized, local law enforcement as well as U.S. Marshalls and the FBI were notified. A U.S. Marshall field agent contacted a local FBI agent and advised him of the mistake.

The FBI agent contacted Jeffery's attorney early this morning and Jeffery's turned himself back in to the Spokane County Jail at approximately 6:16 a.m.

An internal investigation is underway to determine what caused this error.