For those not in his congregation, conservative Moscow, Idaho, pastor Douglas Wilson may be best known for going toe-to-toe with caustic atheist Christopher Hitchens.
But he didn't do so in a polemic, Defender of the Faith sort of way. It was with calm, measured disagreement — conversations that became the focus for an entire documentary between the two.
In 2011, Hitchens died of stomach cancer. Now, next Wednesday, Feb. 27, Wilson will take on a different sort of critic of Christianity, Andrew Sullivan. Sullivan, blogger and columnist, is a gay Catholic.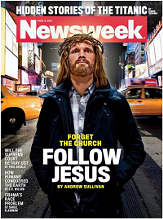 But he's not the sort of Catholic who's fond of the Pope. Sullivan has
written
, "Let me repeat that: the current Pope enabled and abetted the rape of children – and his only way out was to blame a lower official, who subsequently said he'd been pressured."
Meanwhile, even among evangelical Christians, Wilson's a controversial figure.

Here, after Obama's election, Wilson says, "Professing Christians who voted for Obama were either confusedly or rebelliously heaping up judgment for all of us." (He also was not a fan of Romney.) And here he is detailing his precise objections to even certain heterosexual sex acts.
The debate will center on the question, "Is Civil Marriage for Gay Couples Good for Society?" (You can probably guess who supports which side.)

In the meantime, watch Sullivan have a civil discussion at length about Christianity with more traditionally Catholic New York Times columnist Ross Douthat here.
The debate starts at 7:30pm on Feb. 27 in the University of Idaho SUB ballroom.