In the unlikely case that you haven't already heard, the Blue Spark closed after 14 years as a staple of the downtown bar scene. The owner blames the vacant Ridpath and lack of police response to problems. (Spokane officials disputed this.) In any case, it's a shame — we'd been big fans of the recent focus on local beer and especially the $2 local pints on Thursdays.
This week's Entree newsletter includes a preview of the new farmers market in the Emerson-Garfield neighborhood, which begins this Friday with food trucks along with the usual produce and farm goods. Check it out on Fridays from 3 to 7 pm at 806 W. Knox Ave. (Bookmark this link for our calendar listings of all the farmers markets in the region.)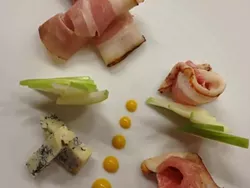 We've
mentioned this before
, but time is running out: Jeremy Hansen and the rest of the
Sante
team are headed to the James Beard House in New York next month, and there are 14 days left to back their
Kickstarter project
to pay for the trip. They're about three-quarters of the way to their goal of $10,000.
Two new home brew shops are opening soon: Nu Home Brew & Bottles in the Valley is already open, technically, with a grand opening scheduled for Aug. 7. Two Knights Homebrew in Post Falls is in the construction phase and hoping for a fall opening.
From this week's news section: They're not revealing exactly what restaurants just yet, but three of them will be built in Kendall Yards pretty soon, joining the existing Central Food.