Washington's pot adventures continue. After hiring experts and listening to citizens across the state, the State Liquor Control Board released its first set of rules earlier this year for the state's new recreational marijuana industry, instigated by Initiative 502.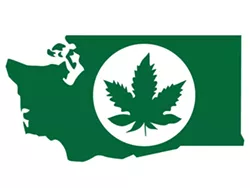 Then, the board
made some changes
, including allowing outdoor grows, which had been previously banned, and scrapping the proposed logo of the state emblazoned with a marijuana leaf. Now, amid criticisms that
range from environmental to economic
, the board is giving you one more chance to weigh in before they make their final decisions.
Tonight in Ballroom 100A of the Spokane Convention Center (334 W. Spokane Falls Blvd.) from 6-9 pm, is the last of the board's public hearings on the rules. There, you can ask questions or share your thoughts (rants) about the proposed rules, found here or at the bottom of this post.
According to its planned timeline, the board will adopt the final rules Wednesday. They'll become effective a month later and the board will start taking applications for cannabis growers, processors and sellers Sept. 16.