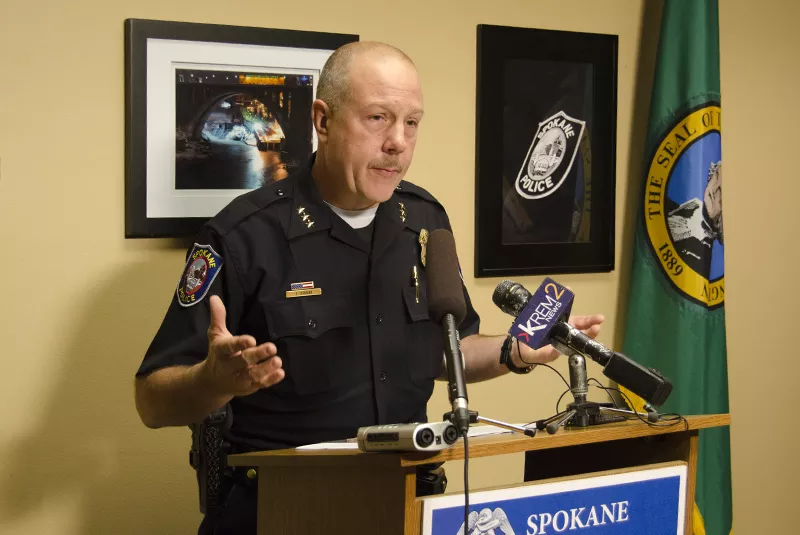 After a four-day manhunt for the second teenage suspect in the beating death of a local World War II veteran, Spokane Police Chief Frank Straub again rejected notions the deadly robbery had any racial or gang-related motives.
"These are two young men who just spun out of control," Straub tells reporters. "Now they've been arrested and incarcerated."
The death of veteran Delbert Belton last Wednesday has captured national attention and had sparked an intense search throughout the city. Authorities first arrested 16-year-old Demetrius Glenn on Friday.
With the help of family and church leaders, Straub says police were able to arrest the second suspect, 16-year-old Kenan Adams-Kinard, early this morning at an apartment on West Montgomery Avenue.
"There was a communal responsibility to help us locate Mr. Adams-Kinard," Straub says. "The community did step up. The faith-based community stepped up. His family stepped up and we were able to arrest him quickly."
Both Glenn and Adams-Kinard have been charged with first-degree murder and first-degree robbery in the case. Straub says his investigators are confident they have the right suspects and they have built a strong case.
Straub says three other juveniles found with Adams-Kinard will face felony charges of first-degree rendering criminal assistance.
Belton, 88, was found Wednesday night outside an Eagles Lodge where he had been waiting in the parking lot for a friend to arrive. Straub says the elderly veteran became an unfortunate victim of a robbery gone wrong.
"I would like to make it very clear — the motive for this attack was robbery," Straub says. "Race was not a factor. Additionally, there was no gang activity regarding this incident."
Straub says Belton suffered significant injuries in the robbery, which may have escalated when he fought back against his attackers.
"I'm not being critical of Mr. Belton," Straub adds. "I would certainly encourage individuals to fight back and he should have, but [the robbery] shouldn't have happened to begin with."
The police chief also called on the community to increase its engagement with young people in order to create an environment where teens do not resort to lives of crime. While he says the two suspect teens made individual decisions to commit their crimes, the community should do more to reach out to and support troubled youth.
"We have to stop talking about these issues," he says. "We have to start acting. … This is not a law enforcement issue. This is a community issue. This is a family issue."