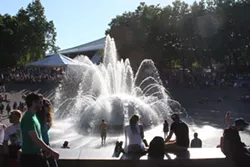 There are two ways to do the Bumbershoot music and arts festival in Seattle. One way would be to have a set schedule; a rigid plan. The other would be to have maybe one or two things you need to see for the day and then just float around letting yourself be surprised by things like a booth only selling deep-fried PB&Js or T-shirts made of hemp and bamboo.
Option one is certain to lead you down the road of unhappiness as lines take up much of your day and you won't get into everything. Sunday, the line to get into headliners Death Cab For Cutie's show snaked all around the entire Seattle Center campus hours before the band was to perform. This meant all of those people missed out on the awesome entertainment happening on the five other stages. The comedy lines too were insanely long, with only a hope and a prayer one would get into them.
But besides the lines and crowds (offering so much people-watching fodder), on Saturday and Sunday the weather was glorious. No, it does not rain in Seattle every day, tell everyone you know. People from every age-demographic were there to see and be seen, giving the event a true community feel.  
Here were some of the highlights:
SATURDAY
click to enlarge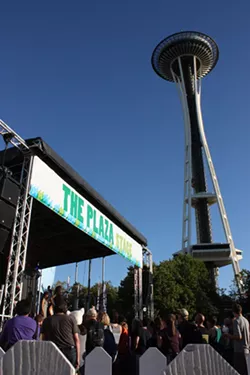 Kendrick Lamar – The Key Arena (main stage) was packed in for this one. But surprisingly, Lamar's stage setup contained very little clutter. While most rappers perform with a full-on posse of hype-men and booty-poppin' backup dancers, Lamar was all alone. His DJ and live band lined the very back of the stage, almost as if they didn't want to be seen at all.  
Lake Street Dive – Not to be confused with Lake Street Drive, which is a way to easily misread the band's proper name, and how they were accidentally introduced onstage. But no matter what they call themselves, the Brooklyn four-piece brought something fresh. Vocalist Rachael Price has jazzy pipes for days that pair perfectly with the funky, rock stylings the band puts out. The vibe was old-school but unlike anything else heard that day.
SUNDAY
Fun. – If Kendrick Lamar barely had any people on stage, Fun. crammed the main stage with as many people as possible. Singer Nate Ruess didn't even have to play an instrument, there were so many other folks to do it for him. He spent most of the time skipping around the stage; sometimes there were some off-key notes. The radio hits and the screaming fans were there, but the elements of a great show wasn't so much.
Mark Maron – WTF podcast listeners lined up for this live version of the show hours in advance. Maron was as self-deprecating as ever. The show was quite nuanced with hilarity and darker topics scattered throughout. His guests were a nice mix of comedians and one musician: Jon Wurster (drummer for Superchunk, The Mountain Goats), Kyle Dunnigan, Mike Vecchione and Scott Aukerman (of Mr. Show). It will be interesting to see if this podcast is actually aired.
The Breeders – Awesome, awesome set. Kim Deal was in her element. The fans, reliving their youth of the early '90s, could not get enough. Celebrating the 20th anniversary of the release of Last Splash, the energy was just palpable. It could be said this was the best show of the day.
REAL QUESTIONS
Is it now deemed OK for women to have the lower half of their butt cheeks showing in public (as is seemingly the style with the high-waisted booty shorts look)?
Should children (13 and younger) be allowed into a Kendrick Lamar show if he spends more than five minutes rapping about "pussy and Patron" being the things to make a person feel better?
Why are so many people giving out free hugs these days (at least their T-shirts advertise they do)? Is that good for society?
Do zombies (actually just people dressed up as them) really fit in with the theme of Bumbershoot?
Monday is indeed still a festival day. Gates open at 11:30 am. Bands to try and see: Alt-J and Trampled By Turtles. The weather doesn't look like it's going to be as immaculate as the previous two, but don't let that stop you — the festival was named after an umbrella for a reason.