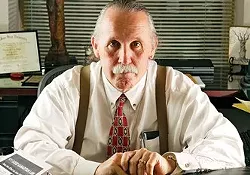 The director of the
Center for Justice
, a loud voice in the ongoing fight over police accountability in Spokane, sent a letter to city leadership this week reinforcing what his group believes is missing from the city's latest deal with the Spokane Police Guild: proper citizen oversight.
"The sum of our analysis is that the tentative agreement is a travesty," writes Rick Eichstaedt in the letter sent by email to Mayor David Condon, City Council members, City Attorney Nancy Isserlis and Police Chief Frank Straub. "It is so plainly contrary to Proposition 1 that the city council cannot vote to approve it without being in violation of Article 16 of the city charter which specifically prohibits the City from entering into an agreement that contravenes the requirements of the article."
The friction Eichstaedt is referring to — and that has dominated the Center's recent interactions with the city — is between voter approval in February of Proposition 1, adding a
mandate
to the City Charter that the Office of Police Ombudsman have independent investigative authority, and what the Center says the recent tentative agreement between the city and the guild includes. The agreement itself, however, remains confidential until it's approved by a vote of guild members, which is expected in coming weeks. That means the city refuses to respond to the Center's interpretation, and we're left waiting.
Read more about recent efforts to empower the ombudsman
here
and
here
, and about the Center's interpretation of the tentative agreement
here
. Find the full letter from Eichstaedt below.