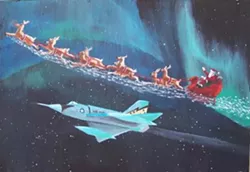 In this week's cover story, we took a look at both the promise of the local aerospace industry and the impressive influence Boeing wields on Washington state.
With Boeing looking nationally to build the 777x after the union rejected their contract, states across the nation have been competing for the aerospace giant's affections. Lately, a major part of Boeing's strategy has been to pit states, even internal pieces of Boeing's company, against each other.
"The whole idea is to have choice," Boeing CEO Jim McNerney told shareholders back in May. "Now that we have internal competition, we are going to get much better deals."
But what, exactly, Boeing has been asking those states for has been a mystery.
Until now.
Yesterday, Tim Logan, reporter for the St. Louis Dispatch in Missouri has obtained a copy of Boeing's Nov. 22 "request for proposal," despite it being shrouded in non-disclosure agreements. Logan doesn't elaborate on how he managed to get the document, and wasn't willing to post the entire thing online. But in a phone call today, he provided some context.
St. Louis, Mo., has been a haven for Boeing's defense industry business, ever since Boeing engulfed the defense manufacturer McDonnell Douglas in 1997.
"Boeing has 16,000 people here," Logan says. "It's probably their second or third biggest operation in their country."
But with sequestration chipping away at the defense industry, and with the possibility of even more defense cuts and base closures looming in the future, St. Louis has been hoping to diversify into Boeing's commercial business.
Boeing's request for proposal listed pieces Boeing needs for the 777x plant, and a lot more things it wants:
REQUIRED
— Boeing needs to be able to obtain or build either a single 4.2 million-square foot factory dedicated to constructing the entire airplane, or two separate sites, one that would construct the wing, another that would build the fuselage and put it all together.
— An airport with a 9,000 foot runway.
— Easy access to a highway and direct railroad tracks.
DESIRED
— A deep-sea port capable of handling large container ships. That's a plus for Washington, and a downside for Missouri, which — as anyone who's checked a map lately can tell — is quite a drive away from the nearest ocean.
But that's the case for about half of Boeing's suitors, Logan says. "It's unclear from that document how important that is to Boeing," he says.
— A bevy of incentives and tax breaks, including free (or deeply discounted) property, facility construction, and on-site infrastructure. Boeing would like a vastly reduced tax burden.
Missouri just passed a $1.7 billion incentive package for the aerospace giant, though that's not nearly as big as Washington's record $8.7 billion tax incentive.
"Here, Boeing didn't even lift a finger" to get those incentives, Logan says. Missouri politicians and business groups rolling out the red carpet for the company of their own accord.
— Support for workforce training. The quality and availability of the workforce has been touted as one of Washington's greatest strengths.
After all, in the world of aerospace, perfection matters. While Washington's local mechanics union refusal to accept a proposed contract led Boeing to look elsewhere, the union has emphasized the unique skills they provide.
"The margins for error are measured in microns," says Bryan Corliss, spokesman for the machinists union District 751. "Even something you'd think would be simple like drilling a hole, you need to know how much the machine is going to slip with titanium instead of aluminum."
One particular hole in the 747, Corliss says, requires standing on the top of a ladder, looking through a mirror, and drilling backwards over your shoulder. Not the sort of thing that can be taught by anything but experience.
Missouri has their own mechanists union, part of the same larger International Association of Machinists and Aerospace Workers that frustrated Boeing in Washington.
Both states have legislators pushing to turn their states to become "right to work," a move which would make most mandatory union dues illegal, and cripple most unions. But where the likelihood of Washington becoming a right-to-work state is small, the political climate in Missouri might be more receptive.
The requests for proposal are due next Tuesday.