The good folks behind Madeleine's and Casper Fry are opening a third restaurant, Durkin's Liquor Bar, in the former Dutch's Music space on Main Avenue. Read more about that, and a new location for Love @ First Bite Desserts, in this week's Entree newsletter.
We have to speculate that the name honors legendary Spokane liquor tycoon Jimmie Durkin, who is appropriate to remember today, the anniversary of the approval of Prohibition.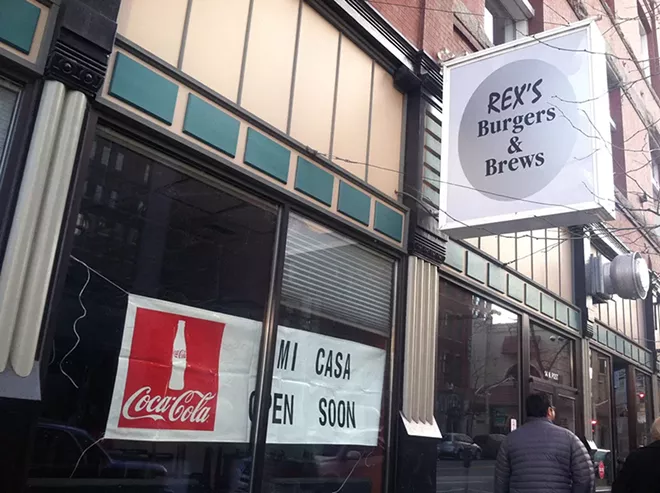 The long-empty former Rex's in the Peyton Building downtown appears to be preparing for a new restaurant: Mi Casa.
Cafe Rio opened a new location in Spokane Valley, its first in Washington.
This weekend the Lantern Tap House is hosting a winter beer festival with 12 regional breweries and two dozen seasonal beers. (And live music, too.)
Paradise Creek Brewery in Pullman is releasing their latest year-round beer, Kügar Kolsch.
English Setter Brewing is planning to open at the beginning of February in Spokane Valley.
Tonight, watch the city's top baristas battle it out at Revel 77's Latte Art Competition. It's free to watch, $5 to compete. And, food for thought while you're there: Why are most world champion baristas male?
Coming soon to the South Hill: Wisconsinburger, a Midwestern-style restaurant from the former Lantern Tavern owners.
Coming to Hillyard: A new business called The Good Shop, registered as a beer/wine specialty shop. (The owner has previously advocated for renewal and testing green technologies in Hillyard.)
Stella's is bringing back breakfast. They're still working on the menu, but it does include vegan biscuits and gravy.
Italia Trattoria has been closed the past few weeks — but now the owners are back from Switzerland (where chef Anna Vogel is from) and regular mealtimes will resume.
Laughing Dog got a mention in USA Today from Washington D.C. beer expert Greg Engert as the "most unexpected place" he's traveled for beer. (The article says Iowa, not Idaho, but never mind that.)
Everyone's teaming up these days. Doma Coffee Roasting Company and Selkirk Abbey have been working on a Belgian coffee porter called Guilt, which could be out any day. Ninkasi was in town to collaborate with Iron Goat on a triple IPA. And who isn't doing something special with Dry Fly's old barrels?
Sweet Frostings posted a delicious cupcake flavor photo gallery. Looking at it may ruin your dinner. They also recently started a separate Facebook page for the Wandermere shop.
Menus won't be up until Jan. 30, but the participating restaurants are starting to be posted at the Inlander Restaurant Week site. We're excited to see some of the new ones in Coeur d'Alene and Post Falls, like Fleur de Sel, Beverly's and 315 Martinis and Tapas.
Kendall Yards Watch: Our building has been mysteriously shaking all day — it now appears that's because they're breaking ground for the building next door, which will be home to Veraci Pizza.
Also, an alert for downtown restaurants from a reader who works at Olive Garden downtown: Several times this week, the same man has come in and tried to order alcohol without ID, then says he is waiting for two others, orders appetizers and leaves without paying. He has blondish hair, medium build and has reportedly stopped at other restaurants as well. Keep an eye out.
Read previous food news here.