You've probably been hearing about how this Super Bowl is extra special because it puts the best defense in the league — our own Seahawks — against the best offense. The good people on the Guardian US Interactive Team dissected that soundbite with the stats behind every Super Bowl ever, and presented the results in some in-depth charts:
Not your standard bar charts, to be sure, but there's tons to pore over for sports stats nerds. (Disclaimer: I know several of the people who made this, and at least one is a Broncos fan.)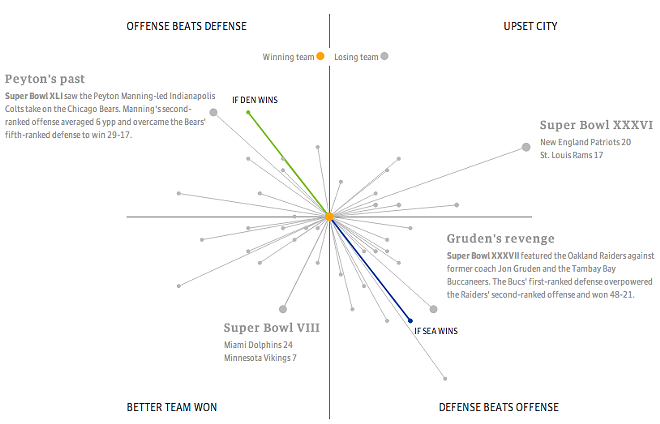 Facebook did another analysis based on "fan sentiment" — it turns out that, throughout the season, fans' positive or negative emotion words correlates with how well a team ends up doing. More positive words before the game = more likely to win. They explain:
"Fans of the team that eventually wins tend to be slightly more positive before the game than fans of the team that loses. This is probably because the best teams have more positive fans and also tend to win their games. In the playoffs so far, the team with the best pre-game sentiment (two hours before each game) has won nine out of ten times."
The chart leading up to the Super Bowl shows that Broncos fans are quite a bit more positive than Seahawks fans — but some people have already pointed out that could be a misleading "Sherman effect." Is it possible Seahawks fans just express their excitement in less "positive" emotion words? Anecdotally, seems possible.
We did check to see if Deadspin's Regressing did an update on its fandom maps, but there doesn't seem to be one.