Not to brag, but this is the first year in a
very
long time I have a Valentine other than my cat. Even so, my darling little cat Alice is still my valentine, too, because what kind of cat lady would I be if I didn't consider her one?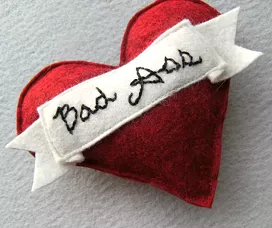 While the cats in our lives probably aren't going to present us with flowers and chocolate today, they'll make up for it with snuggles, head boops and purrs (and the day hopefully will be devoid of any kitty naughtiness). We humans, on the other hand, should still take this holiday seriously and show our kitties some extra love. While it's too late to order some cute handmade,
holiday-themed cat toys from Etsy
(even though the holiday is more than halfway over, it's definitely worth looking at all the adorable heart-shaped toys), there's still a lot of things you can do tonight, aside from curling up on the couch with your furry friend, with or without a significant other human next to you.
Get some new toys, even if your cat doesn't need any
The biggest joy for many cats is often the excitement of receiving a new toy, even if they only show interest in it for those first couple of hours. Getting a cute little Valentine-themed mouse or catnip kicker is still worth the couple of bucks just to see them having so much fun. On the plus side, if you've held off on showering your cat with love until tonight, it's probably that the Valentine-themed pet toys are on sale now.
Make some homemade, gourmet kitty treats
Swing by the store on your way home tonight to pick up some ingredients and spend the evening making your kitty
a delicious Valentine's treat to enjoy
.
I wish we could take credit for the cute Valentine ideas listed in this blog post
"10 ways to show your cat you love her."
They're all purr-fect ways to show your furry little Valentine how much you care, even if they they don't actually understand why today should be more special than any other. Most ideas also don't require much extra effort on anyone's part.
Here's an abbreviated list of the blog's suggestions:
1. Create a snug winter retreat in a sunny windowsill.
2. Actively play with your cat — it offers exercise and mental stimulation.
3. Talk to your cat(s) and use their name(s) — while they probably don't know what you're saying, they still recognize their names and that you're talking to them just by the tone of your voice.
4. Have a kitty spa hour! Massage, brush/comb, trim nails and (kitty willing) brush teeth.
5. Scrub out or replace the litter box.
6. Schedule a preventative check-up at the vet. Your cat might not like going nor realize it's a sign of your love, but keeping him/her in top health is important.
7. Look into what you're feeding your cat and reevaluate its quality and whether you could be feeding him/her a better food to benefit their current stage of life.
8. Buy a new scratcher, in whatever style your kitty likes — there are so many options to choose from.
9. Read some expert opinions on how to be an even more amazing cat mom or dad.
10. Tell your cat you love it! Personally, I never leave the house without telling Alice that I love her. It's part of my morning routine and it should be for all pet parents!