FRIDAY
It's that time of the month again … for First Friday. Check out the lineup of artists and musicians here.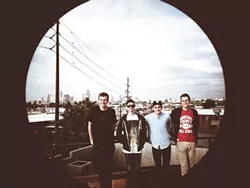 It's all about fuzz with the BOYS. Scratchy reverb from guitars and bass bleeds throughout the band's songs, pairing perfectly with Kale Huseby's nasally, slurred lead vocals. The Missoula-based four-piece's music, tinged with dirty blues and California dreams, represents garage rock at its best. The band has been busy lately, releasing a live album in December and supplying two tracks to a Rubber Brother Records compilation disc in January. Having just played the Treefort Music Festival, the BOYS come through the Baby Bar tonight with an atmospheric show that inspires dancing as well as melancholia. Normal babies and Moon Talk open.
D.O.A. man! This act has been around for 30 years and they're now coming to the Hop! on a farewell tour. Cost is $12 for the show that starts at 7 pm.
Super old-school country act Texas Twister play the Spokane Valley Eagles tonight. It's a pretty exclusive joint. You either have to be a member, know a member or a member of the band to get in.
SATURDAY (which happens to be a great day to be born)
Two rock bands with female lead singers make a stop at the Red Room Saturday night. Stitched Up Heart which has garnered over 80,000 likes on Facebook, along with the Nearly Deads will play starting at 8 pm. The show is $5.
All the way up at the Panida Theater in Sandpoint, that's where Spokane folky acts Marshall McLean Band, Mama Doll and Katie Boeck play this Saturday. The show starts at 8 pm and is $12 at the door.
SUNDAY
Seattle act the Cave Singers with openers Heartwarmer show at the Bartlett Sunday at 8 pm. Tickets are $18 the day of. Get into it below.