The political parties won again. While there were two notable
INDEPENDENT CANDIDATES
on the Spokane County ballot this election — Bonnie Mager for county commissioner and Dave Wilson for Congress — neither advanced to the general election. There had been some talk of Independents being better able to win in Republican-leaning Eastern Washington, but the Democrats — May Lou Johnson and Joe Pakootas — won the day.
AL FRENCH
should be worried over his lackluster showing, but he's probably not too worried. That's because the primary election only polls residents of his 3rd District, while the entire county will vote in the general. Ironically, he looks to be less popular in his own district than he is in the other two. Anyway, more sympathetic voters should be coming in November, but he did draw the tougher challenger in Mary Lou Johnson — a fresh new face on the local scene, a woman and a possessor of actual ideas. French looks to have a real race on his hands.
For years now, the
6TH WASHINGTON LEGISLATIVE DISTRICT
has been counted among the very few "swing" districts in the state — meaning in any given year, it could elect a Democrat or a Republican. That's looking to be less and less the case, as incumbent Republican Michael Baumgartner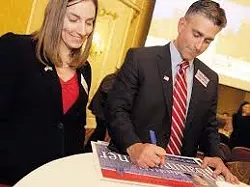 landed 57.2 percent of the vote as of Tuesday — up from the 53.7 percent he took in the 2010 general election. Chris Marr did win in 2006 — the first Dem to hold the seat since 1940. If trends hold, he may be the last for some time. Challenger Rich Cowan did run a tougher bunch of ads against Baumgartner than he did against Cathy McMorris Rodgers in 2012. Expect to see the tough ads continue, as Cowan needs to bring Baumgartner's numbers down. Statewide Democrats and Republicans will continue to pour money into this expensive seat to win, but we'll find out in November if it's really still a swing district.
LOOKING AHEAD TO NOVEMBER

The general election on Nov. 4 is certain to be a completely different animal. Voters will be paying attention, candidates with hone their messages and don't forget the wild card — statewide initiatives! Just to make it interesting, we'll have two separate initiatives on the ballot in November regarding perhaps the most white-hot of all issues in America: guns. I-594 would require background checks on all gun sales, while I-591 would require that Washington only follow the tepid federal regulations on gun sales.
Despite the fact that I-594 has 70 percent support statewide, it will change the dynamics of the fall election. Every local candidate is going to be forced to wade in as they will be asked their views on gun rights. And you can bank on seeing a ton of outside-the-state spending, as gun rights advocates work to stop any limits to their perceived Second Amendment rights. On the other side, a variety of groups that have been activated by so many tragic mass shootings say they are ready to take on the NRA. Maybe it's a discussion our nation needs to have, but it will create unpredictable politics. Conventional wisdom says it will create a headwind for progressives in Eastern Washington and Spokane County — where Democrats already have tough sledding.
Seattle do-gooders may add some common sense safety checks to our gun laws, but it could make life difficult for many candidates here and all over the state.