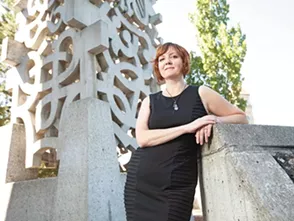 When Shannon Halberstadt took the job last year as the executive director of Spokane Arts, the city's nonprofit arts organization, there was some excited buzz within the city's cultural landscape. She was already a known entity in the Seattle arts community and was coming here to energize a scene that was already on the rise.
But today, the Spokane Arts board announced Halberstadt had put in her resignation. She's moving back to Seattle, where her husband has taken a new job.
Spokane Arts came into being as a nonprofit shortly before Halberstadt arrived. Before 2013, the Arts Commission was a city-run organization, but then joined with the Spokane Arts Fund to create the nonprofit. In the little time she was there, Halberstadt said she was pleased with what the group accomplished.
"I really enjoy the work that we're doing. We have such a good team. There's so much potential there and we've done a lot of good work in a short period of time," Halberstadt told the Inlander today.
Part of her work includes the introduction of Create Spokane, a month-long series of events all over town taking place in October. And just last night was the latest installment of the popular Cultivate Spokane salon series. She also helped spearhead the ongoing Spokane Mural Project.
The Spokane Arts board of directors says they will engage in a national search for an executive director, but have already named an interim replacement in Luke Baumgarten. That name should be familiar to Inlander readers — he was a former staff writer and arts editor for the paper and currently writes a monthly column. Most recently, he's been working in advertising at Spokane agency Seven2. Baumgarten is also one of the founders and producers of Terrain, the event in October that has begun spinning off other events throughout the year.
"I'm excited to jump in there," says Baumgarten. "One of the things I've found super helpful in the Terrain work I've done is finding partnerships. I'm really excited to see who in the community would be interested in working with Spokane Arts and what kind of ideas they have."
Baumgarten says he will also throw his hat in the ring for the permanent position.
Halberstadt says she'll stick around on a part-time basis for the rest of the calendar year. And when she moves to Seattle, she's not going to keep Spokane's culture a secret.
"I'm always going to be an advocate for Spokane. Having this perspective for Spokane and understanding what's happening here. It gives me a great opportunity to spread the word.