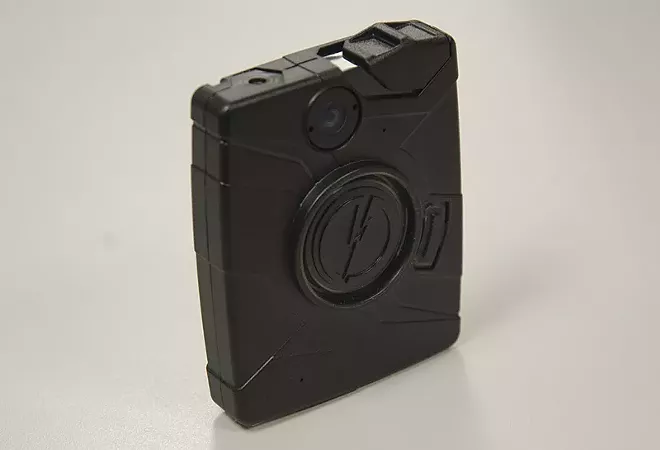 With local police officers testing new body-worn video cameras, Spokane Police Department officials hosted a demonstration of the technology today, explaining the limitations of the cameras and the importance of crafting a careful policy. The U.S. Department of Justice meanwhile released a 92-page report outlining "best practices" for implementing body cameras.
Spokane Police Chief Frank Straub stressed the need to proceed "slowly and deliberately" on introducing body cameras. The department launched a four-month pilot program with 17 officers on Sept. 1. Straub says he hopes the initial testing will help officials work out issues with policies and practices while giving the community time to learn and offer feedback.
"The department made a promise to the community that we would have a very extensive conversation about body cameras," he says.
Straub cited a number of expected benefits, including better officer accountability, increased citizen compliance and improved transparency, as shown by a study from the Rialto Police Department in California. But he also raised a number of sensitive scenarios in which recording officer interactions would be unethical, dangerous or potentially unconstitutional.
"We have to have three or four months of very slow, very methodical, very deliberate public conversation about this," he says, adding, "These things just keep popping up, these little issues."
News media representatives had a chance this morning to run the new cameras through a number of simulations. TV and newspaper reporters put on utility belts and walked through video encounters with armed individuals. Police officials then played back the video to demonstrate what they can and cannot see.
"This isn't going to be a perfectly edited COPS video," Lt. Kevin King says.
Police also played out a single scenario from different angles to show how some cameras might pick up some things while others won't. They explain that when officers physically grapple with a subject, the video can become violently shaky even when the use of force in minimal.
"What these video cameras are recording," King says, "and what you're going to see are still not what the officer sees and what he feels, what he hears and what he's experiencing while he's out on the scene."
The new camera models, the Taser Axon Body, measure about 3 inches long and weigh about 3.5 ounces, slightly lighter than an iPhone 5s. The battery should last 12 hours and it is intended to record visuals and audio comparable to what human eyes and ears can detect.
Straub says the department will "ramp up" its number of officers wearing the cameras in January after completing the pilot program and developing a final policy on camera use. The department will host a large community demonstration on Oct. 30 at Gonzaga University.
Community advocates have voiced frustration with the department's policy process, saying public input should be incorporated throughout the process. Many have listed concerns with aspects of draft policies, saying they need key clarifications.
Straub says body cameras represent largely uncharted territory that will require the department to adapt its policies as it learns what works best. He says the department must also abide by state laws on "two-party consent" involving the recording of private citizens.
"There are no national standards," he says. "There never will be because of the idiosyncrasies of state law. … There is no magic bullet with these things."
Despite distinct local challenges, the Department of Justice today released an in-depth report on preliminary "best practices" for using body cameras. The report includes testimony from police leaders across the country with some initial findings on how to introduce body cameras to both officers and communities.
"When implementing body-worn cameras," the report states, "law enforcement agencies must balance … privacy considerations with the need for transparency of police operations, accurate documentation of events, and evidence collection."
Department officials compiled a list of 33 recommendations for collecting, storing, and tracking video data as well as how to engage the public on the issues. Many recommendations involve providing clear guidance on when officers must record or may not record interactions.
"In terms of when officers should be required to activate their cameras," the report states, "the most common approach is requiring officers to record all calls for service and law enforcement-related encounters and activities, and to deactivate the camera only at the conclusion of the event or with supervisor approval."
The report acknowledges the need for some officer discretion on when to record potentially sensitive encounters, but stressed those incidents should be carefully documented through writing or supervisor approval.
Other recommendations include:
• Policies should clearly outline unauthorized uses of body camera footage and discourage the recording of other officers during non-law enforcement-related interactions.
• Policies should designate which personnel must or can wear cameras to clarify who may be responsible for recording incidents.
• Officers should announce they are recording, whether required to by law or not, because it helps citizens recognize they're accountable as well.
• Administrators should track how video is used by department or court to monitor usefulness.
Spokane includes many, but not all, of the recommended protocols in its most recent draft policy. The DOJ report also noted officers were the most likely to embrace the technology when they believed it to be a tool for collecting additional evidence or quickly contesting complaints.
"Like other new forms of technology, body-worn cameras have the potential to transform the field of policing," the report concludes. "To make sure this change is positive, police agencies must think critically about the issues that cameras raise and must give careful consideration when developing body-worn camera policies and practices."