OUTLANDER serves as a weekly round up of Inland Northwest outdoor recreation and natural resources news. This feature will highlight a wide variety of issues and events, ranging from camping stories to national environmental disputes. We'll also try to include some scenic photos. Feel free to pass along suggestions or curiosities. The Inlander looks forward to sharing and celebrating the Great Outdoors.
—
Wildlife officials, wolf advocates and ranchers have clashed over the Huckleberry pack and the killing of at least 24 sheep in Stevens County. The conflict has ended with one breeding female wolf killed and nearly 1,800 sheep moving off the grazing area. See our story in this week's issue along with an in-depth guide to additional context and resource materials. (Inlander)
Astronomers predict a better-than-usual Northern Lights display TONIGHT across the Northwest. (Accuweather)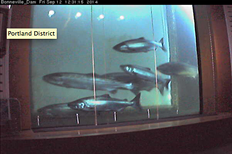 Anglers have rejoiced over record-level chinook numbers running up the Columbia River, more than 67,000 fish in a single day. See a live webcam of fish passing through the Bonneville Dam. (S-R/USACE)
State parks officials have announced a "free day" (no Discover Pass required) for Washington state parks on Sept. 27. An open house will also be held for a new equestrian arena at Riverside State Park. (State Parks)
Washington officials say this year's fire season is one of the most destructive on record. (Reuters)
Montana firefighters rescued obscenely adorable mountain lion cubs from wildfire. (Missoulian)
Environmental groups in Idaho threatened a lawsuit this week over a federal program that kills thousands of "nuisance" animals each year. (S-R)
Washington Department of Fish & Wildlife has continued to update its Fish Washington website to include new information on "high lakes," which have nothing to do with marijuana. (WDFW)
The folks at the U.S. Department of Agriculture highlighted two Northwest habitat rehabilitation efforts, one in Chewelah and another in Idaho. (USDA)
As hunting season ramps up, Field & Stream has compiled some surprising and impressive game cam images. (F&S)
So, Yosemite National Park continues to burn, but wildland firefighters have also had issues with dangerous bear encounters. (LA Times) The latest on the fire. (NPS)
Also, remember Outlander is now on Twitter, so check that out for additional updates.