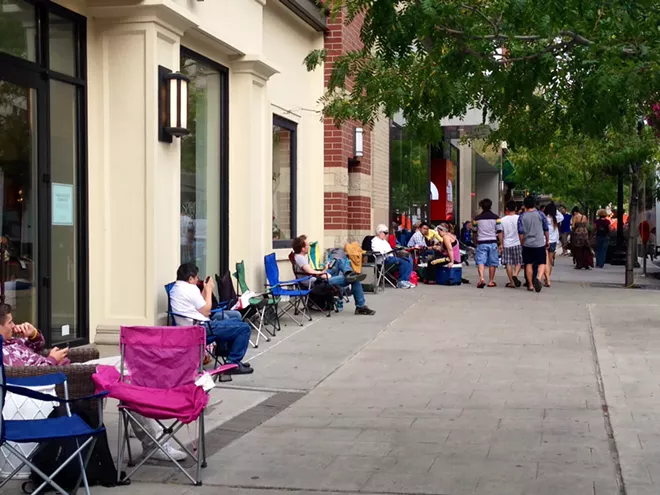 "The big day is here!" That's the message you'll hear today on the automated phone system at Spokane's Apple store and from, well, pretty much the whole world. The excitement over the release of the iPhone 6 tomorrow has people camping out in front of Apple stores everywhere, including our very own on West Main Avenue. When we went by this afternoon, a line of people down the block sat in camping chairs clicking away on iPhones and MacBooks. One group even had extension cords stretched across the sidewalk from a nearby RV to a TV near their seats.
You may remember a certain city law that doesn't quite square with this scene: "No person may sit or lie down upon a public sidewalk, or upon a blanket, chair, stool, or any other object placed upon a public sidewalk, during the hours between 6 a.m. and midnight [in downtown]."
But the Apple store campers won't be cited under that code, say representatives from the Spokane Police Department.
"The thing for us is as long as they're not causing an issue for other people to get around," says Teresa Fuller, a public information officer for the department. "The issue is when we have homeless people sitting and lying, trying to get in people's way to get handouts, that sort of thing."
The so-called "sit-lie" law, which had been on the books previously but was expanded last year, has sparked controversy because some worry police officers could use it to unfairly target homeless people. Yet, even a city council now led by the progressives who voted against last year's expansion of the law, say there's not enough evidence that any unfair profiling is actually happening.
SPD spokeswoman Monique Cotton says not citing the Apple crowd isn't a case of playing economic favorites.
"Our officers are extremely fair and understanding in explaining to people the reasons we need keep these areas open," she says. "This is a short-term event with individuals engaged at that location for a purpose — an economic purpose. It doesn't pose reasonable safety or quality of life concerns."
CLARIFICATION: The sit-lie law includes an exception for people "operating or patronizing a business with permission to occupy the sidewalk." (Read the whole law here.) However, SPD representatives told the Inlander the Apple store did not have or need explicit permission to occupy the sidewalk. Instead, the factor determining whether people were cited under the law was whether they posed "reasonable safety or quality of life concerns," which the department believes they did not, Cotton says.