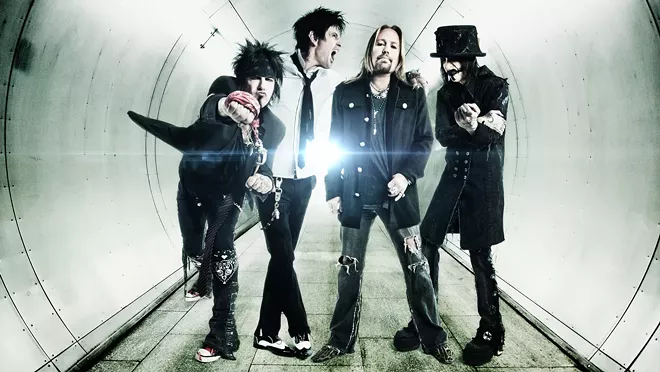 For their final North American show ever, Mötley Crüe set the Spokane Arena on fire. Or at least it felt that way with so many pyrotechnics displayed at last night's beer-induced and packed-to-the-rafters show. All of the spotlights, strobe lights, fireworks and fiery explosions worked well to cover the fact that Nikki Sixx, Vince Neil, Tommy Lee and Mick Mars are no longer as pretty as they were in their 1980s heyday. And a little widening and wrinkling is expected of a band known for such hedonistic
lifestyles.
No expense was spared for the Crüe's farewell tour after 33 years (mostly) together – they even
signed contracts
in a publicity stunt press conference barring them from touring again. I can only imagine the pre-production meeting for the tour went something like this:
"OK, how can we make this tour the most outrageous and face-melting ever?"
- Have more onstage explosions than a
Transformers
film
- See how many times we can say "f—-"
- Have Nikki Sixx's microphone hang from the ceiling. Later he'll light it on fire with his flame-throwing bass only to reveal a pentagram at the top of it
- Make Tommy Lee's drum-kit not only spin in circles but float out over the audience on a track while slowly tumbling
- Tell our origin story in a testimonial style, explaining how we became the best hair-raising band in the entire world selling more than 100 million records worldwide (Nikki Sixx had the honors here, sharing how he moved from Jerome, Idaho, to Hollywood to become a rock star)
- Include flashy stripper-esque backup dancers
- Sing every hit ("Girls, Girls Girls" and their cover of "Smokin' in the Boys Room" were particular favorites) and even a couple songs from our later records like the entertaining "Motherf—-er of the Year"
- Set up side stage extenders to get closer to the audience
- Make sure Mick Mars has time for a virtuoso guitar solo so insane people will think it's Hendrix raised from the dead
And all of this was there and more. The audience lapped it up as they should have – this was a stage experience at the highest level. The fans were on point, too, screaming wildly, spilling beers and raising metal-hands to the sky. Some wore bad hair metal wigs and 5-inch platform shoes. One dude even smartly chose to wear sparkly purple spandex pants with no shirt (it was below freezing outside).
As for the music, sometimes it was challenging to hear Neil's vocals, but for the most part it was all there and they're playing better than ever. Neil can still sing and skip and run quickly across the stage, Lee's drumming is just wild, Mars is still weird and Sixx had a flame-throwing bass!
And as they had to, they ended their final show of 2014 (they have final shows overseas next year) with "Home Sweet Home" on a platform in the middle of the arena. As the power ballad built to its ultimate climax the platform began to rise into the air – because of course it did. In the end, they thanked everyone profusely and the house lights came up.
Mötley Crüe claims this is their final tour ever, but it's clear they love this too much. We'll see what happens five years from now.
Admissions from the stage:
"I swear to God, our music is going to haunt you until the day you die," Neil proclaimed near the end of the show.
"We f—-in love you guys! Thanks for putting up with our drug addictions. To the women out there, we're sorry if we gave any of you diseases."
ABOUT THE OPENER
Alice Cooper was the perfect intro to the evening. No one else can walk around a stage wielding a whip or a sword or wearing a straitjacket like he can. His set was a condensed version of his "normal" solo tour shows but he still managed to get all the nightmarish stuff in – like the guillotine, a huge-ass Frankenstein monster, and zombie nurse back-up dancers. It was just a thrill a minute. The 66-year-old is still singing like "I'm Eighteen" and that's pretty damn amazing.