Every week we delve into the (mostly) steaming pile of new music and home video releases to help readers spend their money on the most worthy of entertainment options. It's a new year, we have the same job. Let's do this.
MUSIC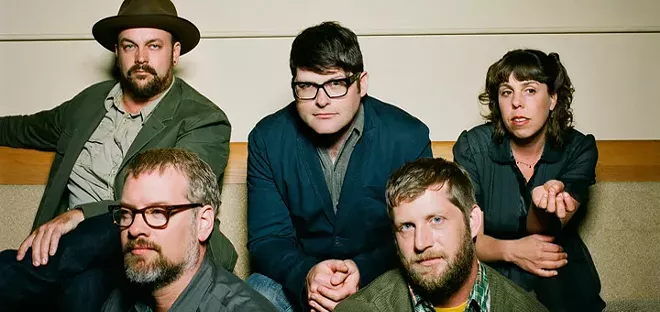 The music biz is still
coasting on holiday sales of Pentatonix
and taking a break from releasing anything of note this week. Instead, here are some of the albums I'm most anticipating in the first few months of 2015:
The Decemberists, What a Terrible World, What a Beautiful World
(Jan. 20). It's been four years since the strong
The King is Dead
album from the Portland folk-rockers led by Colin Meloy.
Sleater-Kinney, No Cities to Love
(Jan. 20). Nine years after Sleater-Kinney released
The Woods
and then split up, America's best band (ya heard me!) is back with one of the most anticipated albums and tours of the year — and the tour starts right here in Spokane on Feb. 8 with a sold-out show at the Knitting Factory.
Father John Misty, I Love You, Honeybear
(Feb. 10). His 2012 debut,
Fear Fun
, was excellent. Here's hoping the concept album he's releasing for his sophomore effort holds up as well.
Modest Mouse, Stranger to Ourselves
(March 3). It's been eight years since Issaquah's finest put out an album. That's way too long for a band that always has something interesting going thanks to leader Isaac Brock.
Faith No More, title tba
(April). Younger readers probably won't know or care about the Bay Area experimental rockers — it's been 18 years since their last release! — but Mike Patton has one of the best voices in rock.
My Morning Jacket,
title tba
(April). Speaking of great voices, MMJ's Jim James has one, too, and the band has reportedly recorded enough songs for two full-length releases. Huzzah!
MOVIES & TV
This week's video releases include some of the worst movies of 2014 — hello,
Left Behind remake
starring Nicolas Cage — but some of the Oscar favorites are out as well.
Boyhood
has t
opped a slew of year-end "Best Movies of 2014" lists
, and is generating serious Oscar buzz for director Richard Linklater, as well as Patricia Arquette. If the near-three-hour running time was too daunting for you to see it in theaters, now's your chance to buy it and watch on your own time.
Dinosaur 13
is a
remarkable documentary about the discovery of the T-rex named Sue
(you might have seen a cast replica of her at the Mobius recently), and the battle for control of her fossil. Here's a look:
Get On Up
got a frustratingly short release in theaters, so a chance to see the James Brown bio-pic is a welcome one. It stars Chadwick Boseman, hot on the heels of his strong Jackie Robinson portrayal in
47
.