The odds are high that Monday's Spokane City Council meeting will be another long, heated one, as the city's legislative body takes up another hot-button issue. Earlier this week,
the council considered a controversial initiative related to immigration.
This time it's related to one of the most emotionally charged and divisive issues in the country: abortion.
Currently, in Spokane it's illegal to block the sidewalk, and it's illegal to obstruct vehicular traffic. But it's legal to block driveways. This aspect of the city's legal code, says Spokane City Council President Ben Stuckart, is being used by Planned Parenthood protesters to prevent people from entering the clinic.
"People have the right to protest, but they do not have the right to block a private driveway," says Stuckart.
The only reason that the proposed ordinance is at all controversial, says Stuckart, is because it involves abortion provider Planned Parenthood.
"Think about if protesters were doing this to Avista or Sacred Heart," he adds.
The proposed ordinance adds any driveway in the public right-of-way to the city's existing ordinance that prohibits interfering with vehicular traffic. "Interfering," under the law, includes activities designed to "intimidate" or "aggressively solicit" passersby.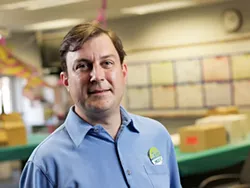 Councilwoman Candace Mumm says there has been lots of disinformation regarding the ordinance and that it applies to driveways for all businesses and homeowners, not just Planned Parenthood. She also says that Planned Parenthood isn't the only place to have problems with blocked driveways.
Protests outside of abortion clinics can become heated and confrontational. Some jurisdictions have passed laws restricting protests. Over the summer, the
U.S. Supreme Court ruled that these restrictions are unconstitutional.
Stuckart says that this ordinance has been thoroughly vetted and shouldn't run into any legal challenges.
John Weingarten, the director of the local chapter of Sidewalk Advocates for Life, says that he doesn't even consider his group's activities outside of Planned Parenthood as amounting to protesting. He says that people involved with the group hand out literature to people entering the clinic letting them know that there are other organizations that provide women's health services.
"We are not protesters," he says. "We are just offering loving alternatives."
"Nobody that I'm aware of has blocked anyone from Planned Parenthood," he says. "No one has even caused them to be delayed."
Weingarten says that people from his group have at times engaged with people in cars in Planned Parenthood's driveway, but they've taken care not to block it. He also says that he's never seen anyone arrested at a gathering outside Planned Parenthood.
"I think what it is is that Planned Parenthood is finding that our literature is being accepted," he says.
Councilman Mike Fagan, a conservative members of the council, says that he expects opponents of the ordinance to show up.
At the last council meeting, Stuckart gaveled the meeting to a close early after supporters of an immigration-related ordinance continued to clap and cheer during the public comment period in violation of council rules. Many of those in attendance bristled at Stuckart's actions, and he says that the reaction has
continued online in social media.
"Someone calling me a fascist for running a meeting with rules is quite astonishing," says Stuckart of some things he's seen online.
He says that he should have just ended the public comment period instead of ending the meeting. He also says he will insist that council rules be followed in the upcoming meeting.