Today the
Spokesman-Review
joined the growing number of newspapers to have published the controversial cover of French satirical newspaper
Charlie Hebdo
. Two heavily-armed gunmen stormed the offices of Hebdo, long known for its provocative covers taking aim at French politicians and
world religions
, last Wednesday, killing 12 people. The paper had previously
been firebombed
due to its portrayal of the Prophet Muhammad.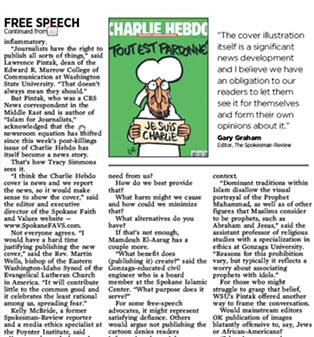 The resulting anti-terror demonstration after the massacre drew leaders from across the globe, and became possibly the
biggest rally in French history
.
Very few mainstream US media outlets republished the more provocative
Charlie Hebdo
covers, including one of Muhammad french-kissing a
Charlie Hebdo
cartoonist, after the attacks. Many Muslims consider illustrations of the Prophet Muhammad to be offensive, though the Koran does not explicitly forbid them, and several Muslim paintings from history have depicted him.
Some news outlets
pixelated the covers
, while others selectively cropped them. Some explained they censored the covers were for reasons of tact, while others cited concern for their freelancers in vulnerable places around the world.
Yet most US papers
did choose to publish
Charlie Hebdo's
latest cover, compiled with surviving staff members in the offices of the French daily Libération. In the image, a crying Prophet Muhammed holds the now-iconic slogan of solidarity "Je Suis Charlie," while "All is Forgiven" is written in French above.
Yet Dean Baquet of the
New York Times
was an exception
, drawing salvos from media critics and the paper's own ombudsman, who pointed out
double-standards
.
Political cartoonists, including Matt Bors at
The Nib
, have drawn their
own cartoons of Muhammad
in response, while others have drawn cartoons
detailing their fear
. Others, like the
The Lego Movie
directors, created
their own homages
to classic
Charlie Hebdo
covers.