The Spokane City Council Monday night passed a resolution that requests the police ombudsman selection committee come up with a list of three possible candidates for the interim ombudsman position ASAP.
The resolution, submitted by councilman Jon Snyder, passed unanimously and aims to provide the council with a list of three people who would be ready to step in should the future police ombudsman unexpectedly resign again.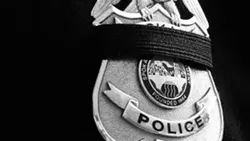 Tim Burns, the previous police ombudsman,
resigned in January
, and the position has been vacant ever since.
As far as when the next police ombudsman will take office, councilman Mike Fagan said a June hire date is the best case scenario, as the ombudsman selection committee still has to select three candidates to present to the Office of Police Ombudsman Commission.
City spokesman Brian Coddington tells the
Inlander
more than 36 applications for the permanent position have been submitted, including one from out of the country. The deadline to apply is May 15.
But there's more shakeup in the police ombudsman office. The assistant to the non-existent ombudsman, Rebekah Hollwedel, announced her resignation late last week. Her last day will be May 20, but Mayor David Condon said the city is working to firm up a replacement, who will take over for Hollwedel as soon as she leaves.
"I'm determined to make sure that office stays open in City Hall and that we continue to receive any information from citizens," Condon said.
Hollwedel declined to comment for this post about her reasons for resigning.