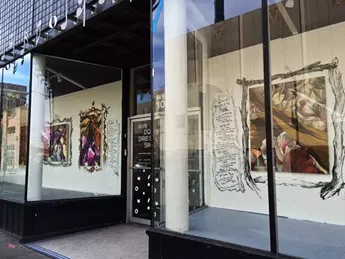 Plans to turn one of downtown Spokane's largest eyesores — the long-vacant Ridpath Hotel — into an urban apartment complex are ever so slowly chugging toward reality. But a project of this scope is going to take time, and until it's underway the Ridpath block will continue to showcase graffiti, broken and boarded-up windows and other unpleasantries related to its vacancy. However, a new effort to make the scene around the hotel more inviting and less unsightly should change this unwelcome atmosphere sooner than expected.
Window Dressing, an local project that puts creative displays and art installations into empty downtown storefronts, is partnering with the Downtown Spokane Partnership and local sponsors to host installations at the Ridpath and the Ridpath Motor Inn starting in September. A call for artist proposals was issued today, offering a $500 stipend to artists whose installations are chosen for each of five designated sites (one includes the skywalk between the two buildings). Submissions are due on August 2 at midnight, and a tentative opening reception for the project is set for September's First Friday event. The full timeline and information for interested artists is listed here.
Window Dressing's first storefront display was revealed last January, at 1011 W. First, in the Music City Building where Terrain was held for many years before moving to its new home last fall. Other artists' projects have since rotated in and out of that spot, and Window Dressing also has hosted installations at a second site, 702 W. Main, near River Park Square. The most recent project there was tied to Get Lit! in April, but now that the spot at the corner of Main and Wall is going to become an Urban Outfitters store, that space won't host any more projects.