Syfy series Z Nation was filming the tenth episode of its second season today at the Northern Quest Resort & Casino's mock casino, normally used for training new employees.
After watching a scene where the cast is welcomed to Northern Quest, the Inlander had a chance to catch up with Co-Executive Producer Jodi Binstock. She gave a rundown on what to expect in Season 2.
"Some of the episodes you won't even believe, they're so insane," she says. Here's a brief episode-by-episode preview, courtesy of Binstock. SPOILERS: Don't read if you want to be surprised!


1. A catch-me-up from last season
2. "A breakneck, action show that is just incredible from the
minute
it starts
until the minute it ends, it is just nonstop action."
3. "Takes place on a modern-day wagon train, sort of a
Mad Max
-type of episode."
4. Takes place inside of a greenhouse that used zombies for compost in hopes to make an herbal vaccine. "There's blaster zombies that are nuclear-radiated zombies."
5. There are Mennonites. "It's a crazy episode, I'll just tell ya."
6. Warren and Vasquez perform surgery on each other.
7. Stars the Spokane River "playing" the Mississippi River.
8. Titled "The Collector." A collector of live zombies captures Murphy.
9. New Mexico and aliens. "I know you think 'What the hell does that have to do with Zombies?' –– You'll see."
10. The Northern Quest episode.
11. Running from a fire set in episode 10, get holed up in a hotel.
12 and 13. Set in Mexico with a cartel-like gang.

A lightly-edited Q&A, including insider info about selecting Northern Quest Resort & Casino, setting fires and shooting the series in Spokane, is included below.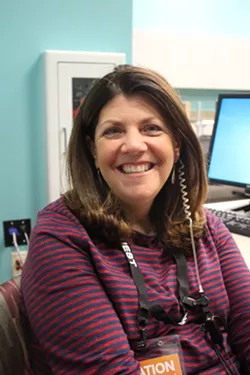 Inlander: Why Northern Quest Casino?
Binstock: Because it's so local. They were the first people that we came to. They've bent over backwards for us and even allowed us to shoot in the casino –– which is typically very difficult to do. In Vegas, you can never shoot in a casino, people have to build them. They let us use their training room as a casino floor, and they've really gone out of their way for us.
We're also doing a burn next week. At the end of this episode, they set a fire to funnel the zombies into the Grand Canyon, so we have to do an actual burn. The winds and the fire dangers in Washington have been so high that the Indian Nation has allowed us to burn on their land so that it's a non-issue.
Will we recognize Northern Quest in episode 10?
Yes! As a matter of fact, we're going out of our way to product-place their trucks, their signage, their pins and stuff like that. It's a mutually beneficial deal. It's called Northern Quest, but in the show, it's actually in Arizona.
What Spokane locations will viewers notice in season two?
They will recognize the Northern Quest Casino, the Tradewinds hotel, the Spokane House hotel, Arbor Crest, the Masonic, Upriver Greenhouses – just to name a few.
Tell me about shooting Z-Nation in Spokane.
Our show takes place across the U.S., so one of the biggest attractions was that Spokane can double as just about anywhere. Everything from the wheat fields of Kansas to the mountains of Colorado and Wyoming, to brick buildings of urban Chicago or Philadelphia. We've been able to find every possible location here.
How long does each episode take?
Six days. It's supposed to be eight, but we do it in six. It's impossible. We do 12-hour days and the makeup team sometimes starts four hours before everyone else, and the electric team often ends two hours after everyone else, so it's a long, long day every day. It's an unbelievably dedicated crew. Everybody has a great attitude, which is a really nice thing. Some of the L.A. crews are jaded, but people want to work up here. Everyone goes the extra mile, and it's really a pleasure.