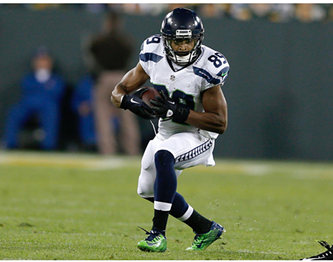 If you were anything like me, you spent the minutes following the Seahawks' loss last night staring at the ceiling. You'd just realized that Seattle has lost
two games
, which is the maximum possible amount of games they could have lost at this point. It's mid-September and it felt like that ceiling is already falling down on your team's season. What in the hell are you going to do every Sunday for the rest of the calendar year?
The Green Bay Packers were at times dominant (and weirdly non-dominant at other moments) in a 27-17 win out in Wisconsin last night on a night when things just didn't look right for the Seahawks. You were probably wondering about certain things, like...
• What the hell is wrong with Michael Bennett? The dude jumped offsides twice on big downs that gave the Aaron Rodgers and his mustache "free plays" to bomb it down the field into the Seahawks secondary...speaking of which...
• What the hell is up with our secondary? Yes, Kam Chancellor continues his ill-advised quest to not make any money this season, but even the fire-proof Richard Sherman got burned a couple of times.
• Where is Beast Mode? We got a few whiffs of Beast last night, but he only amassed 41 rushing yards. That might have more to do with the Hawks offensive line than Marshawn, though. He had guys in his face before he ever got the handoff on several occasions. He does have a
funny new Pepsi commercial
out now, so that's a plus.
• They know they paid a lot of money for Jimmy Graham, right?
The towering tight end only caught one ball last night on two targets.
Losing your first two games is dreadful and, historically speaking,
rarely do teams that start 0-2 make the playoffs.
But then again, the Seahawks have not abided by historical precedent or statistical probability the past few years. Third-round quarterbacks are not supposed to become instant win machines and comebacks like last year's NFC championship do not pencil out. They have that going for them.
And after the loss last night, Pete Carroll took a long sip of chai tea, popped in a fresh piece of gum and told everyone to chill out. He repeated that this morning, telling the media: "We just need to clean up our game and get right, and hopefully we can do that and get started."
To be fair, the Seahawks schedule to start September was brutal from the time it was announced. First, Seattle never plays well in St. Louis as of late, and then to go to Lambeau Field seven days later is as tough as it gets.
Thankfully, the Seahawks finally play a game in Seattle on Sunday and they're in luck that it's the Chicago Bears coming to town. The Bears
got worked by Arizona on Sunday
in a game that also took away their frowny-faced quarterback, Jay Cutler, who pulled his hamstring.
Don't take down that 12th man flag yet. The Seahawks
insist that you need not panic
.
ALL THE COLLEGE ACTION

Things were much brighter for Inland Northwest football fans when it comes to the college game.
Washington State
won at home against
Wyoming, 31-14
in the first relatively relaxing game for Cougar fans. No last-minute heroics, no embarrassing upsets, just a win. The Cougs have a bye this week, which they'll use to prepare for an intense Pac-12 slate of games that begins with a game at Cal on Oct. 3 and then at Oregon on Oct. 10.
Eastern Washington
and Montana State decided to play a video game out in Cheney on Saturday afternoon in a contest that the Eagles won 55-51. The two teams combined for 1,385 total yards and EWU's Cooper Kupp shrugged off any injury concerns by catching 12 balls for 201 yards and three touchdowns. That gives him eight total touchdowns through three games.
And
IDAHO WON A GAME!
In a season that's
been really, really bad both
on and off the field, the Vandals were stoked to get a 41-38 win over Wofford. In case you were wondering, Wofford is an FCS school located in South Carolina. But hey, a win's a win, especially down in Moscow.