FROM INLANDER.COM

•
5 video games coming soon that we're really excited about
•
How you can help Syrian refugees
•
Doctor Who's biggest problem? Too many cool ideas
•
Pullman artist Cori Dantini's designs are now at Target


• Washington's initiative guru Tim Eyman violated campaign laws, state officials say

He got secret payments from a
signature-gathering firm
and illegally used campaign donations for personal expenses, according to an investigation by the Public Disclosure Commission. The PDC referred the case to the state attorney general.
• Scott Walker ends presidential bid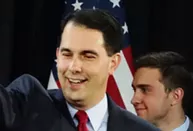 The Wisconsin governor called on some of the other 15 candidates
to do the same
, so the party could unite behind a more "optimistic" leader (a not-so-subtle jab at Donald Trump).
• Expected tomorrow: an announcement that Spokane will host major skating competition
U.S. Skating officials, including 1992 Olympic champion Kristi Yamaguchi, are expected to announce that Spokane will host the inaugural 2016 Team Challenge Cup. (
KREM
) Watch Yamaguchi skate for the gold in 1992 below.

• 1 in 4 women experience sex assault on campus

The
figure
comes from a newly released survey of150,000 students at 27 colleges and universities. The
Inlander
published an opinion column
on the issue earlier this month.