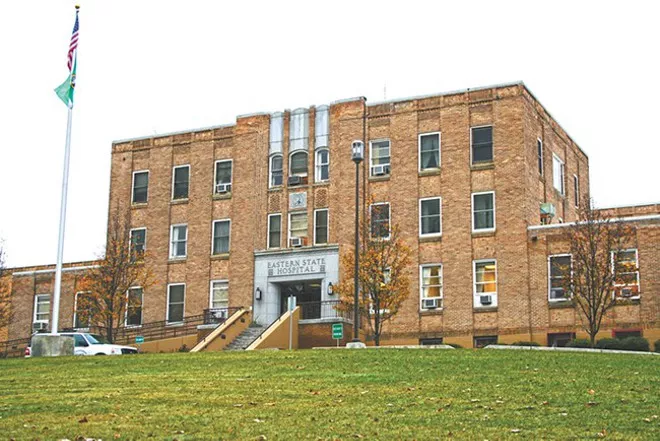 A nurse supervisor threatened and physically abused patients at Eastern State Hospital and then retaliated against at least two hospital employees when they reported her actions, according to a complaint filed in Spokane County Superior Court Wednesday.
The suit names defendants Molly Okoli, a supervising nurse at Eastern, and the Department of Social and Health Services, the state's social services department that runs Eastern and Western State Hospitals.
Jered Bonneau, a mental health technician at Eastern State Hospital and one of the plaintiffs in the suit, witnessed his supervisor, Okoli, physically and verbally abuse patients, according to the lawsuit.
Court documents detail three specific instances of Okoli's alleged abuse. In the first example, Okoli allegedly slapped a patient across the face while the patient was being restrained and then held the patient face down on a bed; in the second, she threatened a female patient who ran away. Okoli then chased the patient down the hallway and tackled her before throwing punches at her. Bonneau had to step between Okoli and the patient, and says Okoli continued to throw her fists. In the third example, Okoli "shoved a patient into a room and forced the patient against the wall with her forearm to the patient's throat, as if trying to choke the patient."
Bonneau and other hospital employees, including Cheryl Rector, the other plaintiff in the suit, reported the abuse to Eastern State Hospital Administration. Bonneau says no action was taken, adding that he believes Okoli has been investigated for patient abuse multiple times in the approximately 15 years she's worked as a nurse there.
Bonneau and Rector further claim that Okoli retaliated against them with "disrespectful and hostile treatment, differential treatment ... and otherwise adverse employment actions," according to court documents. In one specific example of retaliation, Okoli locked Rector in a seclusion room while she was talking with a patient, putting her in danger.
By law, hospital employees are required to report "any time there is reasonable cause to believe that a patient has been abused or neglected," according to the complaint. "Hospital employees who report such abuse by a supervisor are protected by law from being retaliated against for reporting such abuse, neglect, and harassment. Unfortunately retaliation still occurs."
"This is another example of patients not being treated the way they should because of systemic problems with appropriate staffing and ways to monitor reports of abuse and neglect," says Andrew Biviano, a local attorney representing Rector and Bonneau.
He's referring to other pending legal action against DSHS. One, a
civil suit
(also filed by Biviano), alleges current laws violate patients' constitutional rights to adequate mental health treatment and release. Specifically in that case, Biviano
argues
that patients held at Eastern State Hospital after having been found not guilty by reason of insanity, but having no mental illness, should be released.
The second is a
federal injunction
directing DSHS to increase its bed capacity and staffing in both state psychiatric hospitals in order to bring wait times into compliance with the state constitution. Some people who are charged with crimes but determined to be unfit to aid in their own defense are supposed to be sent to the state's psychiatric hospitals to have their competency restored. However, some defendants are
waiting far too long in jail
before being transferred, U.S. District Judge Marsha Pechman found.
DSHS has
appealed
Pechman's ruling.
Although he doesn't like to use the word dysfunction — preferring to look at these three examples as opportunities for improvement — Biviano points out that there are problems with the state's mental health treatment from beginning to end.
"From admission to discharge, there needs to be more attention to patients' rights and needs. They're there for treatment, not punishment," he says, adding that one of the biggest problems with the system is a "cookie-cutter approach."
"It's collective punishment instead of putting in the work to distinguish between patients. The 99 bear the brunt of actions of one," he says.
DSHS spokeswoman, Kathy Spears, said she cannot comment on pending litigation, but provided this statement:
"The safety and protection of our patients and staff remain a priority for the Department of Social and Health Services. Abuse of patients and all other vulnerable clients served by DSHS is not tolerated. Not only is staff encouraged to report abuse, they are required by law as mandated reporters to report it."
We also
made several unsuccessful attempts to contact Okoli.
Read the entire complaint below: