Last night at city council:
Council President Ben Stuckart bickered with civic gadfly George McGrath and Councilman Mike Allen about what can be said during open forum.


The council passed an ordinance giving people with marijuana misdemeanor convictions the opportunity to have them vacated.


The council passed a 1 percent property tax levy, over the objections of Councilman Mike Fagan, to pay for public safety infrastructure.

McGrath told to stop talking about abortion
Stuckart began the council's open forum period, where the public can directly address council for three minut
es, with a warning.
"I'd like to remind everybody of the rules of open forum," said Stuckart. "It's open to city business for the city of Spokane. So if it doesn't have to do with the city of Spokane I will be enforcing that."
McGrath, who regularly harangues the council, was signed up to speak and he wanted to to talk about abortion, a topic he's been bringing up frequently over the last few months.
"Due to the subject matter you've got, I want to remind you of council rule 2.2.4 that all matters discussed relate to the affairs of the city," Stuckart warned McGrath.
"This will definitely relate to the affairs of the city," said McGrath. "I'm talking about butchery and murder at the butcher factory over here at Planned Parenthood."
Stuckart interrupted.
"Mr. McGrath, the Supreme Court ruled on abortion and the state criminal code controls it," said Stuckart. "The city has no control over it."
"But you give money to it," said McGrath.
"Council rules are clear that all matters discussed shall relate to the affairs of the city," said Stuckart. "Abortion is not a topic for open forum anymore."
"Council President, point of order," Councilman Mike Allen chimed in. "Because even though I don't necessarily agree with Mr. McGrath, you just allowed someone to talk about gun violence which we have no control over."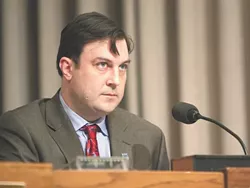 Stuckart pointed out that the previous speaker mentioned the gun violence tax recently passed by Seattle, which he said made it relevant.
McGrath insisted that some city money goes to Planned Parenthood via United Way.
"Zero city dollars go to Planned Parenthood," said Stuckart. "So it's not a budget conversation. The language you are using has nothing to do with the affairs of the city."
"Thanks for the First Amendment rights," scoffed McGrath.
At the second open forum, Gabriel Elliott, another regular, told council a story about getting caught peeing in an alley by a police officer. No one on council objected to it being outside of city business.
Council gives a second chance to people with marijuana convictions
On a 6-0 vote (Councilman Jon Snyder was absent), council passed
an ordinance
allowing people with misdemeanor marijuana convictions, beginning January 1, to go the municipal court and apply to have the charges retroactively dismissed.
Stuckart, the sponsor of the ordinance, said that people with these convictions on their records aren't eligible for federal financial aid, nor are they eligible for federal housing dollars and they can be an impediment to obtaining jobs. He also noted that of the 1,800 misdemeanor pot possession convictions in Spokane, which voted to legalize marijuana in 2012, half are for African Americans or Native Americans.
Council passes a property tax levy; Fagan dissents
Spokane City Council passed a 1 percent property tax levy to pay for public safety infrastructure, such as police vehicles and fire engines. But Councilman Mike Fagan, who was recently re-elected, took issue.
"I'll tell you something, one of the pieces of information that came out and went public a month ago is that our median family income has been raised and raised significantly," he said, referencing reports that the city's median income rose 11 percent. "Now I've got a problem with that information being reported because the way we divided that information is not the same as we have in the past."
"I'll tell you, knocking on doors out there in my community, in District 1, people are not doing any better," he continued. "As a matter of fact, they are doing a bit worse."
Fagan suggested the city should instead use excess sales taxes due in spring of next year to pay for public safety infrastructure. Councilwoman Amber Waldref responded by saying this approach was less burdensome than passing a levy.
The measure passed 5-1, with Fagan voting no.