Janice Corbin, a former assistant police chief of the Seattle Police Department, is one of the three choices forwarded by a joint committee to investigate, among other things, the city's handling of the sexual harassment allegations against former Police Chief Frank Straub. But she herself was once named as a defendant in a lawsuit over how she handled sexual harassment complaints in the Seattle Police Department.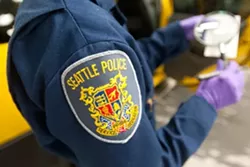 For six years, Corbin was in charge of the
Human Resources Bureau
with the Seattle Police Department, and worked in human resources for 14 years. Efforts to reach Corbin via phone and email Wednesday afternoon were unsuccessful.
A book,
Policewoman: a History
, details the
2002 case of Heather Hottle
, who sued the City of Seattle for how they handled her sexual harassment case:
"Hottle also alleged that when she reported the harassment, the department's former human resources director, Janice Corbin, and a sergeant then in charge of equal-employment opportunities, Terri MacMillan, belittled her allegations and then focused on Hottle's fitness for duty."

Around that time, the
Seattle Times
reported:
Hottle also alleges that Corbin, who has since left the department, showed up at South Precinct roll calls in August 2000 and announced to everyone that Hottle was accusing certain officers in the precinct of sexual harassment. Corbin suggested that other officers would be sued "and lose their homes" if they didn't keep quiet, Hottle alleges.

"The manner in which my complaint was handled has been humiliating and stressful for me and made it very difficult for me to continue working in this department," Hottle wrote to the chief. "I am saddened by the retaliatory way the Seattle Police Department treats employees who attempt to come forward and voice a complaint."

Assistant City Attorney Olsen said Corbin and MacMillan didn't do what Hottle alleges.
The City of Seattle settled with Hottle for
$250,000
, but did not admit wrongdoing.
Corbin was also quoted by the press during the 1999 resignation of Police Legal Advisor Carol Newell Pidduck, which
Seattle Weekly
reported may have come due to frustration over the Seattle Police Department's scandals. But Corbin said the reason Pidduck
gave was medical
:
The recent scandals within the Seattle Police Department have reportedly produced their first resignation: Police legal advisor Carol Newell Pidduck has quit over the handling of a misconduct lawsuit against the department, according to sources inside and outside SPD.

"She gave medical reasons" as cause for departure, says police personnel director Janice Corbin. Others say Pidduck felt increasingly conflicted over legal defense strategies used by the department to thwart inquiries from citizens and attorneys.

Other resignations followed
. She was close friends with
Linda Pierce
, an assistant police chief who, the
Seattle Times
reported, later left the department
due in part to
"her concerns about the department's treatment of female officers."
Today, Corbin is a partner at Sound Employment Solutions, a human resources firm. Her bio
includes the fact
that she's "a certified practitioner of the Meyers-Briggs personality assessment tool and is certified to administer and interpret the test results." She does have experience conducting investigations, however. She was hired by the Gray's Harbor PUD to examine internal
problems
as they looked to hire a new general manager.
Karen Stratton, a city councilwoman and a member of the joint committee charged with picking candidates to head up the investigation, says no questions were asked of Corbin specifically about the lawsuit. Each candidate, she says, was asked the same questions.
But she did have worries about Corbin. "One of my concerns with her was that whole police background, because I didn't want people to think, 'Here we go again'," Stratton says.
Council President Ben Stuckart and Mayor David Condon will ultimately pick from the three finalists. Stuckart says he was not aware of the lawsuit against Corbin, but she was not his top choice.
"I forwarded a name to the mayor — my recommendation — and it was not Corbin," Stuckart says. While his own research did not uncover the lawsuit against Corbin, he was able to look over their past investigations to determine how thorough they were. "I read a lot of reports that other candidates had produced, and was pretty satisfied with who the top choice was."
For now, he's declined to name his top choice.
The other two choices:
-
Kris Cappel
, a former New York City prosecutor who's prosecuted a wide variety of crimes, including
bribery and public corruption
. She's also has has previously been hired by businesses to specifically investigate allegations of sexual harassment and employee misconduct.
When the Wenatchee school district wanted to investigate
allegations of rape
on a high school football trip last year, it hired Cappel. Her investigation found that supervision had been lax on the trip,
but did not find evidence
of systemic problems in the district.
The
Port of Seattle Commission
also hired Cappel's firm, the Seabold Group, to investigate pornographic and racist emails sent among Port policemembers. In 2011,
it also tackled
the question of whether Lynwood mayor Don Gough has "engaged in aggressive and intimidating behavior" around Emily Yim, his former director of Neighborhoods and Community Affairs. Ultimately, it found Yim's allegations to be unsubstantiated.
- Robert Westinghouse, a lawyer with Seattle law firm Yarmuth Wilsdon, PLLC. He headed up some of the biggest fraud cases in the state as a federal prosecutor, including whether fraud at Washington Mutual played a part in the 2008 financial meltdown.
Yesterday, Gov. Jay Inslee announced he'd hired Westinghouse, and retired federal prosecutor Carl Blackstone to look into the question of why an error that resulted in 3,200 convicts being mistakenly
released early
went uncorrected for over a decade.
Earlier this year, Westinghouse and Blackstone's firm also provided an independent supplementary investigation into on the case of whether employees at Beacon Hill International School, in the Seattle School district, were responsible for cheating. His report noted inconsistencies in answers by the employees, and noted that one employee refused to interview with them. Their investigation included fingerprint scanning and handwriting analysis, but the conclusion wasn't anything dramatic:
After two investigations, the District has determined that it is time to move on. Without someone coming forward with significant new evidence, there is little hope of ever identifying the culprit. We concur in this decision.
The City of Spokane's press release follows:
A joint committee that is coordinating an independent inquiry into recent personnel matters has forwarded the names of three potential investigators to Mayor David Condon and Council President Ben Stuckart for consideration.

The joint committee of Councilmember Karen Stratton, City Council attorney Brian McClatchey, private attorney Laura McAloon and City Utility Director Rick Romero recommended that the investigator be chosen from among the following individuals:

· Kris Cappel, a principal in Seattle investigation consulting firm the Seabold Group and former federal prosecutor, who has experience in employment law investigations.

· Janice Corbin, a human resources training and consultant with the Mukilteo, Wash. firm Sound Employment Solutions, LLC, and former assistant chief with the Seattle Police Department, who has 30 years of human resources experience.

· Robert Westinghouse, a lawyer with Seattle law firm Yarmuth Wilsdon, PLLC and a former federal prosecutor who has experience with complex cases.

Condon and Stuckart will use information gathered from the conversations to select an evaluator to conduct an independent inquiry into the process, policy, and timelines associated with recent Spokane Police Division personnel movement and release of public records. The inquiry will also include an evaluation of the processes for all employee complaints and investigations.

Committee members interviewed six candidates, which included three recommended by the U.S. Attorney's Office and three added by the committee. A candidate could be approved by the City Council at its next regularly scheduled meeting on Jan. 4.

The U.S. Attorney's Office recommended the names of four individuals to the joint committee, one of whom withdrew from consideration due to a conflict of interest. Committee members added three additional candidates.

The joint committee is also working to finalize the scope of the work, which will focus on the process, policy, and timelines as requested in the City Council letter on Nov. 30. Complaints filed with the citizen Ethics Commission will be handled through the normal process.

Any further communication will come from the joint committee.