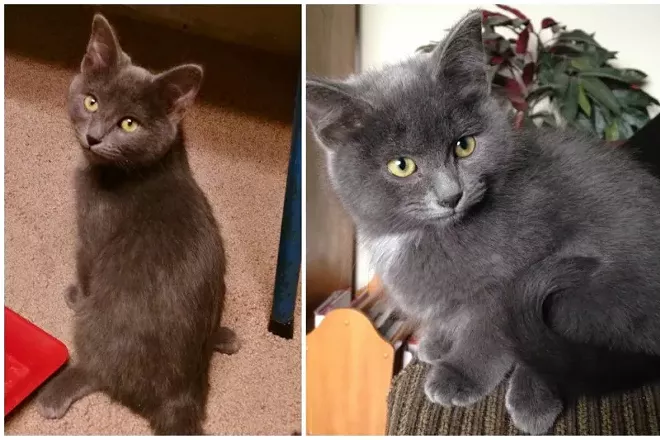 Yoshi is a lucky little kitten.
Born to a feral mother along with five siblings, the kittens' chances of surviving in the countryside would have been slim. Especially for Yoshi, who was born with a congenital birth defect that causes her hind legs to disconnect at the joint. Thankfully, rescuers with Pawsitive Outreach Spay/Neuter Alliance, based outside of Newport, Washington, found the kittens at around six weeks old (still young enough to socialize), and were able to successfully round them up. Yoshi's siblings have since all been adopted into loving homes.
Now in the care of a volunteer foster home in North Spokane, Yoshi is growing fast, playing hard and stealing hearts. She's currently about five months old.
A special surgery to correct Yoshi's dislocated leg joints is being planned, but the small, rurally located rescue group has struggled to come up with the funding to pay for the expensive procedure. Because the birth defect is so unusual in cats, and thus the need for corrective surgery, Yoshi will be traveling south to the Washington State University Veterinary Teaching Hospital in Pullman for the procedure.
Cindy Knudsen, POSNA's shelter director, says the rescue was originally quoted $3,000 for the procedure, but due to miscommunication that only one of Yoshi's legs needed correcting, that initial estimate was wrong. Now the nonprofit is trying to raise a total of $5,000 to fix little Yoshi's legs. To offset the cost of surgery, POSNA launched a GoFundMe campaign that's so far been quite successful, raising more than $3,500 as of this writing.
Yoshi (yep, she's named after Mario's little dino friend) is heading to WSU in about a week to have her first pre-op appointment with the veterinary staff, at which they'll be able to determine the best time for surgery.
Knudsen says that although Yoshi currently has decent mobility — as evidenced by her playful antics in the video below — the condition will cause a host of problems for her as she matures into an adult cat.
"As she gets older and heavier, that is when she's going to have problems," Knudsen says. "She's walking on the bones, and that'll create sores and raw areas. As a kitten it's fine because it's not unbearable, and she's not in pain. If we had a choice we'd leave her like that, but we don't."
Yoshi has two options for surgery, either metal plates and pins to reconnect the bones at the joint, or a bone fusion procedure. The WSU vet staff will decide the best option for Yoshi hopefully at her upcoming visit.
In the meantime, Knudsen is hopeful the donations keep rolling in so that Yoshi can receive the surgery at the optimum time the veterinarians suggest for her, probably in a few months.
The Pawsitive Outreach Spay/Neuter Alliance was founded in 2011, and last year alone adopted out more than 200 cats. The nonprofit works with rural residents in four counties of Eastern Washington and North Idaho to offer free or low-cost spay and neuter surgeries, which in turn helps manage pet overpopulation in the rural, low income areas.
"We hear all the time how relieved and grateful these people are — they love these animals," Knudsen says. "Someone dumps some cats and [people] start feeding them, but they're struggling financially and can't afford to get them fixed, and then there are kittens and it's out of control and they don't see a way out. When they do find help it's amazing."
Because POSNA also often encounters abandoned animals or residents who can't afford animals' care, the organization also runs a shelter and enlists foster homes across the region to help house and re-home some of these pets. Find out more about POSNA's services, mission and adoptable pets on its website and Facebook page.