ON INLANDER.COM

Mixed Signals
• Spokane Arts wants to paint some more
signal boxes
in Downtown Spokane.

Down By The River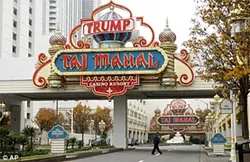 • Dan Nailen spends some time with
some lady in a van
.
On Bespin, disintegrations are banned, but carbonite flash-freezing is allowed.

• Bounty hunter rules
vary widely state to state
.
Chef's Special

• Tonight, watch
movies about food
. Hear chefs talk about food. Eat food.
HERE

The Auditor Survives
• The Democrat-controlled House has decided
not to try
to impeach the State Auditor, even though he, uh, has been accused of money laundering, possession of stolen money and filing false tax returns. (Spokesman-Review)

Stomach-turning
•
Jury
has to view videos of former VA doctor Craig Morgenstern
allegedly sexually assaulting boys
. (Spokesman-Review)

Sorry, Mr. Jackson

• The Spokane Valley City Council
votes to oust its city manager
. (Spokesman-Review)

THERE

I Am Donald Trump, King of Kings. Look Upon My Works, Ye Conservatives, and Despair

• Donald Trump
happens in Vegas
. (Five
Thirty Eight
)

One reason the party may not be stopping Donald Trump?
• Because the party thinks the
party will stop Donald Trump
. (Washington Post)

Password protected
• FBI would appreciate it if Apple would unlock
nine more
iPhones. (New York Times)