FROM INLANDER.COM
• THIS WEEK: Think & Drink, Jonathan Richman, Rachel Feinstein and more
• JUSTICE: Juvenile rehabilitation a priority in Washington's legislative session
• Zags draw Seton Hall in the Big Dance

The
Gonzaga Bulldogs
, an 11th seed in the Midwest Region of the NCAA tourney, will play No. 6 seed Seton Hall in Denver on Thursday.

• A third-story medical building is coming to Spokane's Kendall Yards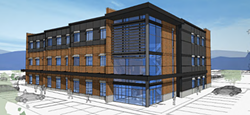 With construction scheduled to begin later this month, the facility will serve as a primary care medical center for both Providence Medical Group and Columbia Medical Associates,
KXLY
reports.
• Trump catching heat for stirring up violence

Rivals in both parties
point the finger
at one man: Donald Trump himself.
• Obama could name his Supreme Court nominee today

He's down to three finalists, the
NYT reports
, but it's still unclear if the Senate would thwart efforts to confirm the nominee.