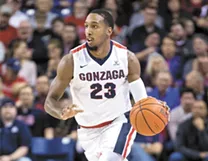 ON INLANDER.COM


• It's
St. Pat's Day
! Some people
celebrated a little early
, but that probably won't stifle today's imbibing. (Plus: how the
Inlander
news team
knocks a few back
.)
•
NBA vet
(and WSU alum)
Craig Ehlo
on his addiction.
•
Zags play Seton Hall tonight
in Denver. Read how
Eric McClellan
saved their season. (Also,
click here
for the full schedule of games, including start times.)
IN OTHER NEWS:


• Obama
tapped
federal appellate judge
Merrick Garland
to replace the late Antonin Scalia on the US Supreme Court. Despite Garland's support from both sides of the aisle, Senate Republicans have
vowed not to approve
any potential justices until after the presidential election. If ultimately appointed, the "centrist" Garland could tip the nine-justice panel further left than it's been in decades.
• There are reports of
elevated blood lead levels
among people in New York and New Jersey. In
Manhattan
, federal prosecutors are investigating public housing and homeless shelters as the possible source; in
Newark
, school officials say water in the city's schools has contained high levels of lead for years.
• Spokane police are investigating a
suspicious death
at a vacant home in
East Central
. Just fifteen months prior, the house was the scene of a brutal alleged assault/attempted murder.
• A
mother faces charges
for promoting a suicide attempt and controlled substance homicide for her part in her
daughter's apparent suicide
. Carol Lambert, who is a nurse, is not in custody. (
KXLY
)