While driving — and especially this month — turn off your phone and lock it up in the trunk. From April 1-14, Washington has extra patrol officers looking for drivers who are using their phones, and will be issuing $136 tickets as part of a national campaign to end the dangerous habit of phone use while driving.
For many, this can be difficult. When you hear your phone ring or buzz, instinct calls you to know who is trying to reach you or to see if it's an emergency. In a car, however, this curiosity can be fatal.
According to recent
AAA research
, it takes about 27 seconds for a driver's mind to return to driving after a call or text. In those 27 seconds, anything could happen. In fact, according to
WA State Licensing's website
, a person talking on a cell phone is as impaired as a driver with a .08 blood-alcohol level.
"It's the mental engagement it requires that is difficult. Whenever you are on the phone, your vision decreases and you lose visual cues. In a car, of course, that's really dangerous. It's not like eating a hamburger," says Shelly Baldwin, Legislative and Media Relations manager of the WA Traffic Safety Commission.
In an effort to eliminate those dangerous 27 seconds, officers will be on extra patrols through the month of April, made possible by overtime funding from the National Highway Traffic Safety Administration, a branch of the U.S Department of Transportation.
Getting a ticket for cell phone usage isn't just an idle possibility, it's an enforced initiative. In 2014, the month of March saw around 3,000 hand-held phone usage violations rise to 5,412 in April, when Distracted Driving Awareness month hit.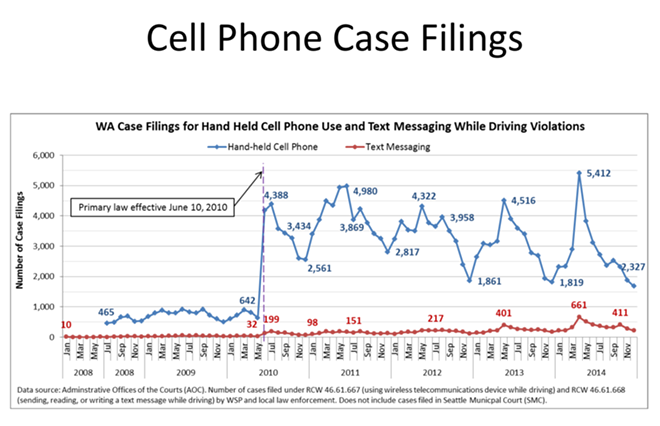 However, Washington laws on texting at a stoplight are vague, Baldwin says. Each district has its own way of enforcing them and it's often left up to an individual officer's discretion whether to issue a ticket or not. Baldwin says the WA Traffic Safety Commission has been lobbying for a clearer law.
But for now, as part part of
Target Zero
— efforts to significantly decrease traffic fatalities and injuries in Washington by 2030 — these extra patrols will significantly increase vigilance on the roads for all driving offenses. That means chances of getting a ticket in another area, like speeding, is more likely to occur.
So as the saying goes: better safe than sorry. Tuck away your communication devices while driving and let's keep the roads safe.