On Inlander.com:

NEWS
:
How Spokane City Council members changed their tune on council's role, salaries
FOOD:
Top Chef's Chad White to open a ceviche spot in conjunction with brewery collective

NEWS
:
Police weren't going to investigate the Jones Radiator art theft, but now they are
NEWS:
Federal judge rules that Idaho department made 'arbitrary' cuts to disability funding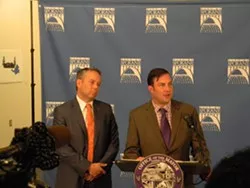 Other news:

• Investigation stymied
Remember
that investigation
that was launched into who knew what about the ouster of police Chief Frank Straub and any attempts to cover it up? Well,
city employees aren't participating
and city council is considering using its subpoena power to get to the bottom of things.
• Death penalty challenged
Attorneys representing Jonathan Renfro, an Idaho man charged with killing a Coeur d'Alene police officer,
have filed motions
intended to block the prosecution attempt's to seek the death penalty in the case.
• Aguirre case continues
Richard Aguirre, a former Pasco police officer accused of murder, is arguing in court that he couldn't have committed the slaying in a 1986 cold case
because he was out of the country.

• $15 minimum wage passed in California
Lawmakers in the Golden State
have sent a bill
to Gov. Jerry Brown that will phase in a $15 minimum wage across the state.
• Everyman electric car?
Elon Musk, CEO of electric car company Tesla,
unveiled his company's Model 3 sedan
, a vehicle that's more modestly priced at $35,000 than most of its other products. Consumers have already placed 115,000 orders for the vehicles that won't be available until 2017.
• Employment rate up
The U.S. Labor Department issued a report finding that
the economy added 215,000 jobs last month
and that participation in the labor market had increased.