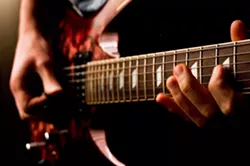 Tunes Up, Stress Down
Every single culture has some sort of musical tradition. There's something intrinsically inspiring and nurturing and healing about listening to music. In fact, a whole field called "neuromusicology" is devoted to gaining a better understanding of how music can aid in physical healing and promote positive emotions.
This week, a newly published study showed levels of the "stress hormone" cortisol were reduced in more than 100 people after they listened to an hour of live music. This study was small and more work remains to be done. But it offers an"evidence-based" reason to attend one of the many local live music offerings this week.
Read more about the study
here
. Check out
live music offerings
at inlander.com.
Maybe You Can Help
Up to 10,000 kids are waiting for foster homes at any given time in the state of Washington. Learn more about becoming a foster parent at two upcoming events, April 19 and April 26 at 5 pm at Washington State's Children and Family Services on 1213 N. Atlantic. For more information call FosteringWA at 509-359-6130 or go to fosteringwa@ewu.edu
Read about efforts to improve the utterly dismal high school graduation rate of foster kids in the new issue of InHealth, available on stands, or
right here
.
Mark Your Calendar for 4/20
Spokane leads nationally trending news today upon release of a report showing locals are spending more on weed than on bread or milk. Helping adults assist kids in navigating the new ways of the world is the focus of community forum titled "Alcohol, Marijuana and Mental Health," sponsored by the Spokane Regional Health District. Scheduled appropriately enough for 4/20, it will feature two UW experts discussing the "Top Ten Things Everyone Needs to Know" concerning kids and substances. Join in the free conversation from 7-8:30 at Shadle Park High School. For more info,
go here
or call 324-1504