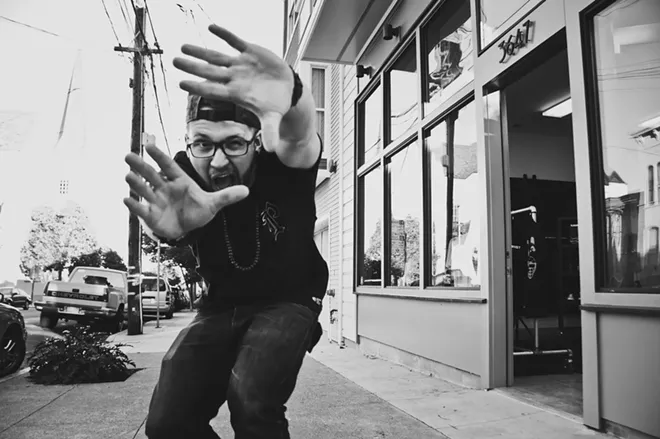 TONIGHT
It turns out that Christian rappers are doing big things in the mainstream these days (we explored the topic in this week's
music section
). Of course, New York-based
Andy Mineo
qualifies in that he's a rapper who happens to have a faith, but Mineo is one of the artists leading the charge. He plays the Knitting Factory tonight at 7 pm and tickets are $25.
Within the Seattle-based collective
the Horde and the Harem
's indie-rock and folk-pop songs are so many ideas. And tonight you can experience all of them at the Observatory.
Pine League
and
Buckingham
and Company
open. Cost is $5 for the 9 pm show.
Tonight, the Iron Goat Brewing hosts a grand opening
celebration
at its new location (read about all the changes right
here
). The lineup tonight includes local acts
Milonga
and
Mama Doll
, starting at 4 pm. Then Saturday you get a whole lot more with
Dead Serious Lovers, Nick Grow, Summer in Siberia,
and the
Fun Ladies
, which begins at 11 am.
SATURDAY
In the mood for some acoustic music madness? The Viking hosts
Getchfest
Saturday, which includes a whole bunch of local artists comin' in and strippin' down, musically speaking.
The lineup features short sets by members of the Nixon Rodeo, Invasive, Free The Jester, Banish The Echo, Children Of The Sun, Tyler Lang, Sovereign Citizen
and more. The whole super-long show starts at 3 pm.
SUNDAY
Anyone running Bloomsday Sunday morning, go ahead and check out the on-course entertainment lineup
right here
. Be sure to vote for you favorite when you're all done running, the groups truly appreciate it.
The holy grail of old school metal comes to the Pin! Sunday night. That's right, metal act
Holy Grail
has a sound that will bring you back to the metal of your youth (we wrote about
them
this week, too). Check them out along with
DevilDriver, Incite, Hemlock
and
Invasive
starting at 7 pm. The all-ages show is $20.
And, in case you missed it, the
Volume lineup
is here!