On Inlander.com:

Third police shooting in one week
On Monday, Spokane police responded to a report of domestic violence at the West Wynn motel on Sunset Hill and found a man who said he had a gun.
According to a Spokane Police Department news release
, "shortly after that, officers advised shots were fired" and a gun was recovered from the scene. No officers were injured, but the man was taken to the hospital. This is the third time Spokane police shot a man within the last week, and
as the Spokesman-Review reports
, the man shot yesterday is the same schizophrenic man who was shot eight times by officers outside a homeless shelter in 2014.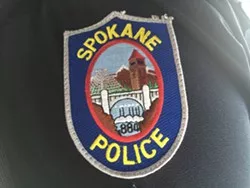 Two cyclists struck by cars
An 8-year-old boy riding his bike with three other kids was
struck by a car and killed
in Post Falls yesterday. The 22-year-old car driver was arrested on an unrelated warrant, and Kootenai County deputies are investigating crash. Then, sometime after 11 pm last night, a man on a bicycle was
hit by a car on Division Street,
and he later died, according to Spokane police.
Councilman Ed Pace has goals for Spokane Valley's police services
Spokane Valley City Councilman Ed Pace
wants to make some changes
to the contract the city has with the Spokane County Sheriff's Office for police services. That includes hiring a police chief who's an employee of the city, something Sheriff Ozzie Knezovich called "a deal breaker" (
Spokesman-Review
). Pace has also
recently proposed
a plan for the Valley to have its own public safety oversight committee.
American killed in ISIS attack in Iraq
A U.S. Navy Seal was
killed in Iraq
during an ISIS assault. U.S. forces responded with F-15s and drones which dropped more than 20 bombs. (CNN)
Hamilton makes history
Hamilton
, the hip-hop musical about the nation's founding fathers,
has been nominated for 16 Tony Awards
. That's the most in Broadway history. (
New York Times
)
Trump in Indiana
Indiana's presidential primaries are today, and Donald Trump is
feeling confident
about his chances of winning the state and moving on to face Hillary Clinton. (
Washington Post
)