ON INLANDER.COM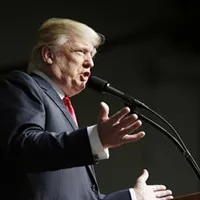 Trump in Spokane
Donald Trump, you may have heard, was in Spokane on Saturday for a rally in which he
guaranteed he would win Washington
in the general election. (
Spokesman-Review
)
April showers (or lack thereof) bring May fires
Evacuation notices have been issued for
a 50-acre fire burning
in Chelan County. Level 2 evacuations have been lowered to level 1, meaning residents need to be ready to leave at a moment's notice,
according to Chelan County Emergency Management
.

Making us all look bad
A Central Valley High School senior named Josh
took his mom to prom on Saturday
for Mother's Day, since his mom, Melanie Thomas, never went as a teenager because she had to raise him. Evidently she raised a thoughtful son. Well done, Josh. (KXLY)

North Carolina defends anti-trans bathroom law
North Carolina has
sued the federal government
in its fight to defend its new transgender bathroom law, which bans people from using public bathrooms that do not correspond with their biological sex. The U.S. Justice Department demanded last week that the state "remedy" the law or face consequences.
Muslim Mayor in London
London has
elected its first Muslim mayor
, Sadiq Khan, amid debates about the flood of Syrian migrants and cultural disputes in Europe. (
New York Times
)