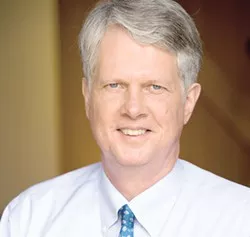 UPDATED:
I've embedded the April 11 letter HR sent out to department heads and the mayor's cabinet.
—-
This week,
we have a story looking into how
City Council President Ben Stuckart and Councilwoman Candace Mumm handled the termination of legislative assistant Richard Rush.
Several human resources concerns had been raised about Rush, a former city
councilman,
when Mumm fired him.
Last night, Rush sent over the letter he had received on April 11 from HR director Heather Lowe:
Dear Mr. Rush:

It has come to my attention that you are repeatedly calling and harassing female employees at the City of Spokane since you were terminated from employment last week. A number of women have complained to the Human Resources department about your behavior and are receiving unwanted and harassing phone calls from you at their desk, during work hours.

This must cease immediately. While you are free to conduct business with the City as any other citizen does, you may not solicit female employees during work hours to go out on a date or spend time with you. The women you have contacted that have complained to us have made it abundantly clear to you that your calls and communication are unwanted and unwelcome. The Director of the Parks Department and the Supervisor and Manager of the Treatment Plant have contacted you directly on behalf of their employees and told you to stop calling.

If the City continues to hear from our employees that they are receiving unwelcome and unwanted calls from you during work hours, the City will support our employees seeking a necessary and appropriate no-contact order from the Court to prohibit this kind of behavior to protect our employees.
Previously, Rush had told the
Inlander,
"I had not talked to [the two employees alluded to in the letter] since my termination."
Today, however, he confirms that he
tried
to call the two employees after his termination, but never actually spoke with them.
"I did not have any communication with them after termination. I only had *attempts* at calling ... I attempted to call both after March 31st, in an attempt to inform them 1) I no longer worked at the City and 2) give them my personal contact information. (I may have given one or both of them my personal contact information earlier but I am not sure.)," Rush said in an email to the
Inlander
. "These call attempts were never successful; I only got voicemail. I don't recall leaving any messages."
Rush also confirms that he had received a text from Parks Director Leroy Eadie on April 7th, and a call from the "the Manager/Supervisor of the Water Reclamation facility," discussing the issue, but says that was his first indication that his attempts to contact were unwelcome.
"Since receiving the text on April 7th, I have not attempted to contact either party," Rush writes.
Here was the letter Rush sent back to Lowe on April 27, objecting to the implication that he had done anything inappropriate.
Dear Ms. Lowe:

I am in receipt of your letter of April 11, 2016. Due to delivery issues and other time constraints, I only opened and read it on April 24th.

The allegations made in your letter are categorically false. Should you continue to contact me with similar allegations or otherwise make such allegations about me to any third party, I will direct this matter to legal counsel.

Sincerely,

Richard Rush
—-
On April 11, Lowe also sent out a letter to all city department heads (and the Mayor's Cabinet) warning them to notify HR if they "become aware of this behavior from Rush toward any of your employees."
Human Resource Director Heather Lowe's April 11 email concerning Richard Rush by DanielWalters