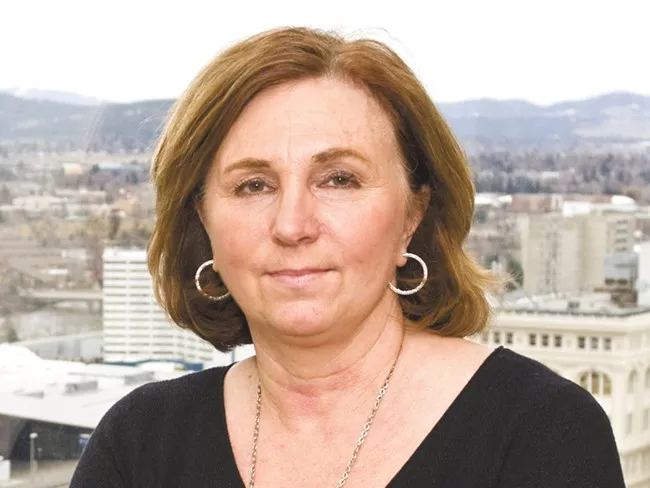 A little more than a month ago, Assistant City Attorney Erin Jacobson
announced she was leaving the city of Spokane.

Now, her boss has followed suit.
Mayor David Condon sent a letter today to councilmembers today announcing City Attorney Nancy Isserlis will be leaving the City of Spokane in a little more than a month.
"This is her decision. She decided to resign," City Spokesman Brian Coddington says. "This was completely Nancy's decision."
In 2012, Isserlis hoped she would be able to
quell two of the city's biggest controversies.
"I think the police accountability and the ombudsman issues, at least for the time being, [are] going to be front and center. I think I can do my part in helping this community heal," Isserlis said back then, adding, "I can't make it heal."
As she leaves, however, police accountability and ombudsman issues have returned to front and center.
Isserlis,
who once served on the city's ethics committe
e, fought to strengthen the city's Code of Ethics in 2013.
"The old policy has a lot of vagaries and nuances," she said then. "My goal to minimize vagaries and nuances."
She also wasn't afraid to bring down the hammer when she identified behavior that she believed was unethical. She filed a complaint against City Council President Ben Stuckart when she discovered he'd forwarded a privileged email to one of the city's union leaders. The ethics commission
ended up fining Stuckart for the violation.
Isserlis also hired her former law firm to investigate the Office of the Police Ombudsman Commission after a whistleblower complaint raised concerns — a lengthy investigation
that resulted in the ouster of three of the five commissioners.
In 2012, Isserlis also hoped that the city attorney's office wouldn't become the focus for the media.
"The business of the city attorney's office generally shouldn't be making front-page news, and it has been for quite a while," Isserlis said, referring to the office's handling of evidence in the Otto Zehm case. "And I'd like to get back to a point where everything's just not
crisis-all-the-time,
like it seems to be now."
But ever since
the firing of Police Chief Frank Straub
,
Isserlis
and the city attorney's office have become mired
by
controversy. Isserlis herself is being sued by Straub.
And with an independent investigation being conducted by former federal prosecutor Kris Cappel into how the city handled the issues surrounding Straub, the City Attorney's office has been faced with sticky questions concerning the release of documents, attorney-client privilege and whether testifying in the investigation should be mandatory.
Last week, City Councilmember Breean Beggs, who is on the committee overseeing the investigation, said that none of the city legal staff, including Isserlis, had agreed to speak to the investigator.
Today, the
Spokesman-Review reports
Isserlis has decided not to testify at all. Once she leaves, it becomes impossible for the mayor to compel her testimony through the
Garrity Rule
, though the city council could still issue a subpoena.
When Jacobson announced her resignation last month, she said she'd be willing to speak with the investigator if her concerns about attorney-client privilege could be addressed.
"Meanwhile, however, I refuse to breach my ethical obligations to my clients because of political pressure," Jacobson wrote.
Asked if Isserlis's resignation was related to the concerns over attorney-client privilege in the Straub investigation, Coddington declined to get specific.
"She's just looking to move on," Coddington says. "This was just something she decided the time was right."
Coddington suggested Isserlis is unlikely to answer questions from the media about her resignation.
"She's indicated she's not interested," Coddington says.
The mayor's letter and Isserlis's letter of resignation follow:
Councilmembers,

Nancy Isserlis informed me this morning that she intends to leave the city this summer. Her last day as City Attorney will be July 1. She will spend the next several weeks transitioning the matters she is currently involved in to others in her office.

Please join me in thanking Nancy for her professionalism, dedication and commitment over the past four years. Under Nancy's leadership, the city worked to bring closure to Otto Zehm's family, dramatically reduced the number of cases in litigation and successfully negotiated numerous labor contracts.

The city is losing a tremendous asset.

Mayor Condon

05.23.16 Isserlis Resignation by DanielWalters