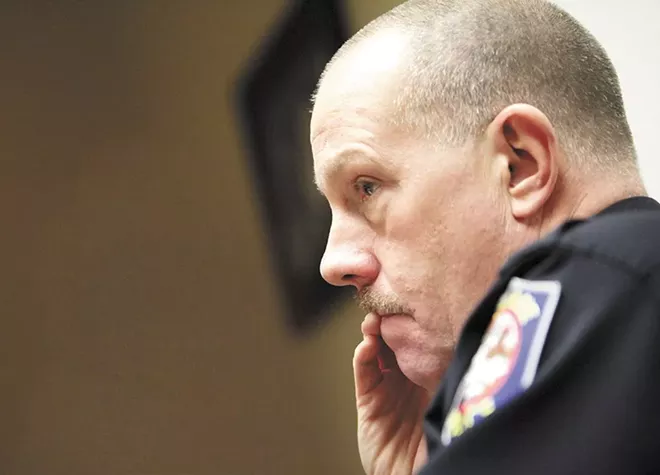 The Condon administration can't say it wasn't told.
Since at least the fall of 2013, questions have loomed around City Hall about police Chief Frank Straub.
Was Straub a loose cannon who got results? The sort of leader who generated complaints,
self-demotions
and frustration purely because of his willingness to take, in his words, "decisive leadership and definitive action in a 'hostile environment'" in order to "break the '
strangle hold
' these officers had
on
the department?"
Or was he a destructive boss who, as a
newly released investigative report
indicates, was abrasive, unprofessional, and verbally abusive, volatile, threatening, demeaning, profane, vulgar? Was he the guy who, as the report concludes, "managed by fear and intimidation," "created a hostile work environment in violation of the City's general harassment policies" and wielded personnel moves as a weapon to punish employees who crossed him?
Before his forced resignation, the report by investigator Kris Cappel reveals, the city never conducted a full-scale investigation into that issue. Yet, the Cappel report outlines time and time again when police department employees alerted Condon administration officials — including city attorneys and the Human Resources director — to red flags about Straub's behavior. City Councilman Ben Stuckart said three different employees brought concerns to him. By April of 2015, the mayor, the city administrator, and the chief financial officer had also been told directly about serious concerns about Straub.
Here's Cappel:
As early as the fall of 2013, the Administration and members of the City Attorney's office were generally aware that Chief Straub had an explosive temper, that he sometimes mistreated his staff, and that he had an unprofessional management style.

It does not appear, however, that the Condon Administration or the lawyers knew about or fully appreciated the depth and breadth of the SPD's concerns about Chief Straub's leadership until the meetings with the Association and the executive team in September 2015.
Many of these concerns the police department raised echoed complaints that had been made in his previous job in Indianapolis, which he left facing a vote of
no confidence
. Yet, even as Straub created chaos within the department, sparking self-demotions and transfers, the Cappel report portrays the Condon administration as incurious about why.
When Assistant Chief Craig Meidl took a three-step demotion in February 2014, "no one from the Condon Administration asked him why he was stepping down" Cappel writes.
And after Brad Arleth was demoted, Cappel says, the city put out a press release saying it was "mutually agreed-upon under the department's reorganization." Arleth told Cappel that was false — it was forced. He sent an email to city spokesman Brian Coddington explaining it was false, Arleth told Cappel, but never got a reply back. (In a bit of symmetry, Condon later also referred to Straub's resignation — signed under threat of termination — as a
mutual decision
.)
The closest the city got to a broad formal investigation into Straub was limited to one incident — a profanity-laced blowup on March 31, 2015. That one was conducted by city attorneys, not human resources. No notes were taken, a major witness was not interviewed, and the inquiry was limited to just that incident — not Straub's overall behavior.