Spokane oil and coal train initiative, Michelle Obama's speech & morning news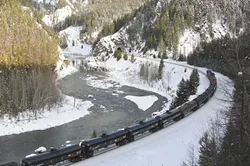 ON INLANDER.COM
IN OTHER NEWS
Spokane City Council has

sent a ballot initiative

to voters this November that would impose a

$261 fine

for each rail car of crude oil and uncovered coal passing through the city. (Spokesman-Review)

Half a dozen Washington State University football players are

being investigated

for their involvement in a fight that

seriously injured three WSU students

at a party. (KREM)

Since Seattle set its path to a

$15 wage law

, job growth has been triple the national average. But much of that growth has

nothing to do with higher wages

, according to a University of Washington report. (Seattle Times)
DEMOCRATIC NATIONAL CONVENTION
The Democratic National Convention

started yesterday

with

boos and jeers for Hillary Clinton

, following an email leak revealing how party officials undermined Sanders during his campaign. (New York Times)

Comedian

Sarah Silverman

, a Bernie supporter,

called the Bernie or Bust people

"ridiculous." (CBS)

Michelle Obama

gave perhaps the most impactful speech of the day

in support of Clinton

, while taking some subtle jabs at Donald Trump. She told the crowd she wants a president who will teach children that "everyone in this country matters," and that Obama was "here tonight because I know that this is the kind of president Hillary Clinton will be, and that's why in this election, I'm with her."
Tags: Michelle Obama , Spokane , News , Image , Video