Some concerts are memorable because they're full of transcendent moments and mind-blowing creativity on stage. Some are just as memorable for a much simpler reason: A non-stop cavalcade of hit songs that take fans back in time, at least in their mind.
Friday night's Culture Club, English Beat and Berlin show at Northern Quest Resort & Casino falls firmly in that second category. While there were certainly excellent individual moments across all three bands' sets, the most impressive thing about the concert as a whole was just how many classic '80s-era songs those three bands are collectively responsible for.
It starts with
Culture Club
. The headliner, on their longest-ever tour, racked up enough hit songs in its heyday to easily deliver nearly 20 songs that the crowd knew every word to, and could easily sing along. Include a couple of Boy George solo hits (a cover of Bread's "Everything I Own," and "The Crying Game") alongside the classics like "Time (Clock of the Heart)" and "Miss Me Blind," and a few new songs such as the funky "Like I Used To" and "A Different Man" and you have one worthy nostalgia-fueled 90-minute dance party.
All eyes are naturally drawn to Boy George, the cheeky frontman known for his bold stylistic choices and soulful voice. Both are still in fine form, although he did want the media photographers at the show to stand a bit further back than the other bands required. Hence, this is the best photo I could get: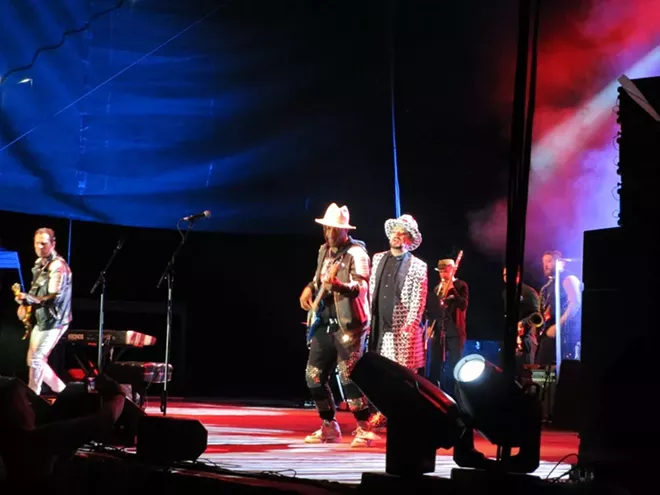 Even so, it was easy to see his suit covered in X's and O's, and later costume change into a rainbow-themed hat and lapels, from pretty much anywhere in the venue. His voice has aged a bit, deepened, but that didn't detract from the songs, and it stayed strong throughout the show as George shimmied and swayed to the reggae-tinged tunes created by his bandmates Roy Hay, Mikey Craig and Jon Moss, joined by an array of horn players and backup singers.
George's humor came through between nearly every song, when he talked about being too young in the '80s to actually remember them ("Sometimes the memories get vague for good reason"), referred to another costume change with "I dress like this because my makeup artist believes in dragons," and encouraged some crowd participation with a campy proposition, "C'mon baby, loosen up Spokane!"
For the most part the crowd did as George asked, dancing along to "Move Away" (complete with a tease to Tears for Fears' "Head Over Heels"), "The War Song" and the like all the way until an encore including "Karma Chameleon." The show-opening troika of "Church of the Poison Mind," "It's a Miracle" and "I'll Tumble 4 Ya" set the tone early for what proved a winning version of Culture Club, circa 2016.
The other bands set a pretty high bar at this show with their own sets full of flashback classics. Berlin opened while much of the crowd was still filtering in. That didn't stop lead singer Teri Nunn from strutting the stage in lingerie, staring down the sun and running through hits like opener "No More Words," "The Metro" and "Masquerade." The big finale was the band's theme song from
Top Gun
, "Take My Breath Away," a tune that utterly lacks the swagger of most of Berlin's songs. Still, the crowd loved it as Nunn jumped on roadie's shoulders and sang the ballad as she glided through the audience.
In the middle spot, Dave Wakeling led the English Beat through a whip-smart set of ska and rock that upped the party vibe as the sun descended. "Tears of a Clown," "Save It For Later," "Ranking Full Stop" and "Tenderness" from Wakeling's Beat spin-off band General Public all sounded great on the big stage.